Tom Arnold Accused Of Racist And Sexually Aggressive Comments Towards Trump Supporters Diamond And Silk
"Get your big booties back into Big Daddy's hot tub."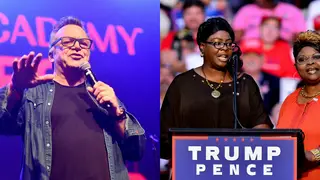 Infamous Trump supporters Diamond and Silk are calling for the #MeToo movement to take aim at Tom Arnold after the actor sent them a racist and sexually disturbing tweet.
In the now-deleted tweet, Arnold, who is known for being a longstanding critic of President Donald Trump, strangely detailed what he would like to do to the women's bodies in a tone that painted them as Black caricatures.
WARNING: GRAPHIC LANGUAGE
"I'd like to investigate every crack curve & crevice of you two tons of fun's heavenly bodies," he tweeted. "I'll start with intensive oral examination of your naughty bits. So take off all yo clothes & get your big booties butts back into Big Daddy's hot tub. Don't bring Streisand. Too freaky."
After seeing his uncomfortable tweet on Sunday morning (October 27), Diamond and Silk responded, accusing him of "online sexual harassment or predatory behavior."
"Is this tweet considered online sexual harassment or predatory behavior?" they tweeted while resharing a screenshot of his tweet. "Where is the #MeToo movement? @TomArnold, you may not have respect for yourself but you don't get to disrespect Diamond and Silk."
Arnold then took things to another level, responding to their comments in another tweet that had even more blatantly racist undertones.

"You wrote @ me first," he replied. "Expressed your bug a*s love for me on Twitter many times. You've made sexy videos about me for the world to see. You SAID MY NAME. Now stop playin G's. Our love is sacred. Get on over here. Grab Popeyes Chicken on way. Wings & thighs. Dark meat only babies."

When a fan called him out for the clearly racist attack, the Soul Plane star took an even more bizarre turn in his commentary:

"Racism is not a chicken's #1 concern before he get to Popeyes snowflake," he tweeted. "Have you ever even talked to a single chicken? I've spoken to many. Facts matter."

After seeing these exchanges, a few Twitter users called for Arnold's account to be deactivated.