A$AP Rocky Reveals His Best Collaboration, And It Has Nothing To Do With Music
The rapper says his kids Riot Rose, three months, and RZA, 18 months, with Rihanna are their "best creation so far."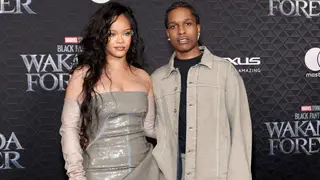 A$AP Rocky knows his finest work is irrefutably tied to his bae, Rihanna. And that's on period!
Over the weekend, he and the "Lift Me Up" singer attended the Formula 1 Grand Prix in Las Vegas. While at the event, the "D.M.B." rapper was questioned by Complex if he and Rihanna would ever link up for a Puma collaboration, where they both serve as creative directors. According to the rapper, they have already crossed that threshold, well, sort of.
"If me and my lady were to collab, what could we team up and just like f---ing smash and go crazy on?" 
His response was too good. This brotha is smitten over his favorite girl and their baby boys.
"I think we do a real great job at collaborating and making children," he explained while blushing. "I think that's our best creation so far. Nothing's better than that."
The rapper also gave a nod to "a ghost designer named God" who "shaped everything."
"And we have these beautiful angels, so that's the best collaboration," he said of their precious sons.
In June 2018, dating rumors began to swirl after the artists were seen at Paris Fashion Week together, as reported by the outlet. In November 2018, the publication confirmed they were dating. 
The couple welcomed their first child, RZA, 18 months, in May 2022, and then their second baby boy, Riot Rose, made his grand entrance in August 2023.
Back in September, Mom and Dad shared photos of baby Riot for the first time.  
In one snap, the Barbados native and the rapper were captured smiling at their baby as he lay on a pink and blue blanket. The infant looks up at his parents wearing an adorable blush pink two-piece set.
The photos didn't stop there. The family of four had an epic photo shoot, where Riot stole the show.
There are precious frames of the baby, along with his mom, as she wears a denim jacket with multiple gold necklaces and reveals her arm art while carrying him. The fun photo shows the baby wearing his first classic Timberland boots in wheat nubuck. In that shot, RZA sports a set of cornrows while sitting on top of his famous dad's shoulder.