Stormzy Accepts Honorary Degree From University Of Exeter
The rapper also delivers a very heartwarming speech to the graduating class.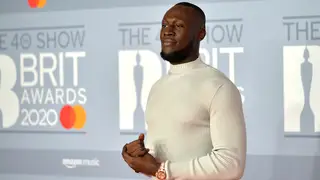 Stormzy can add another accomplishment to his collection as he received an honorary degree at the University of Exeter for his outstanding contribution to society.
During his speech to the students during the ceremony, he shared how his journey was different than the graduating class.
"The journey I took to get to this moment has been considerably different to yours," he said.
"You guys have the guts and the grit and the dedication that it takes to study for years and to finish your degree, whereas I got my AS results in my first year of college and said, 'Yeah, see you later.' I didn't have the same minerals that you guys have. A year later, I took another swing at my A-levels at a different college—until I sat down for my English exam in January and walked out after 10 minutes."
Three years ago during his appearance on The Johnathan Ross Show, the British musician shared how his college days had an unfortunate ending as he was expelled from college due to a prank.
"I put loads of chairs on another student, sounds mad," the rapper explained.
"I was horseplaying and the student was trapped. It was 7 or 8 chairs."