The 'Karen' Hall of Fame: Airplane Passengers Applaud as 'No-Mask Karen' Kicked Off Flight
Mask or no mask these Karen's crossed the line.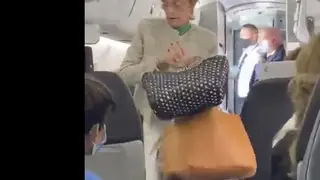 Following the widely circulated video of a Central Park incident where Amy Cooper called the police on birdwatcher Christian Cooper (the two are not related), went viral many social media users began to share other incidents of white women using their privilege to threaten Black folks and calling the subjects Karen. 
And what is the definition of a "Karen," a term popularized by Black Twitter to call out racist and abusive behavior? 
According to Dictionary.com: Karen is a mocking slang term for an entitled, obnoxious, middle-aged white woman. Especially as featured in memes, Karen is generally stereotyped as having a blonde bob haircut, asking to speak to retail and restaurant managers to voice complaints or make demands, and being a nagging, often divorced mother from Generation X.
After the viral Twitter video from May 25 erupted on social media, Amy "Karen" Cooper was ultimately fired as vice-president at the Franklin Templeton firm and briefly lost custody of her dog. 
More videos of entitled, obnoxious, middle-aged white women demanding to speak to managers, inciting violence on Black people or calling the police have since gone viral, sparking the hashtag #KarensGoneWild. 
Check out these 20 Karens who have all gone viral for all the wrong reasons. 
*Warning: Offensive Language*
'No Mask Karen' Kicked Off Her Flight

A video posted on Tik Tok went viral on Twitter on July 21 showing 'No Mask Karen' being kicked off of her flight for refusing to wear a mask during a regional American Eagle airline flight. As Karen rushed to gather her many carry-on bags, the rest of the passengers applauded her removal.

'Postmates Karen' Guards Apartment Building So A Black Food Delivery Employee Can't Deliver Food To A Resident

While a Black Postmates driver attempted to deliver food on July 23 to a customer in Los Angeles, this Karen blocked him from doing his job. Karen also tried to bring the food to the resident before questioning him on if he even lived in the building.

'Zombie Karen' Licks An Entry Door After Being Denied Entry To A Bar

Another Karen tried something a little extreme to get the attention of others. After being denied entry at a bar in Houma, Louisiana, for not wearing a mask Karen is then seen charging the front door at full speed before slamming her body into the building, as she begins to lick the glass. 

Her crazed actions are being compared to the award-winning film, I Am Legend. 

'Costco Karen' Throws A Tantrum For Being Asked To Put On Her Mask

'Costco Karen' is one of the latest Karen incidents that is childish, to say the least. A video shows a woman who is throwing a toddler-like temper tantrum before laying out on the store floor. 

 "I just need you to put that on for now while you're in the building. That's all," an employee is heard telling the woman, referring to the face mask that is hanging from her ear. "Just temporarily while you're in here, and then you can take it right back off."

Deciding that she will not comply with the rules, 'Costco Karen' ultimately partially blocks the store's exit from customers trying to leave as she waits for the manager.

'Arizona Karen' Shows Off Her $40K Rolex Watch As She Trashes A Target Face Mask Display

This Karen, also reportedly known as Melissa Rein Lively from an affluent Scottsdale neighborhood in Arizona, runs a public relations company. She was caught on camera going off as she strips masks from a display in a Target store.

Minivan Karen Draws Gun On Black Mom And Her Daughters

After a Black mom in Auburn Hills, MI used her hand to hit a white couple's minivan to prevent them from hitting her daughter in the parking lot, minivan Karen hopped out of the passenger seat to draw her gun on the family. Minivan Karen can be seen in the video yelling and screaming obscenities. 

It has been reported that minivan Karen was arrested and later released.

Permit Karen Interrogates Her Black Neighbor And Falsely Accuses Him Of Pushing Her

#Permit Karen formally known as Susan G. Schulz who works as the Chief, Toxics Compliance Section, U.S. Environmental Protection Agency, attempted to use her white entitlement in Montclair, NJ against a Black couple-- who are proud lawyers and law professors. Permit Karen, invited herself on to the couple's property demanding questions on if a permit was needed for her neighbors to build a stone patio in their backyard.

Unsatisfied with her demands not being met, Karen calls the police falsely accusing her neighbor of assault saying that he pushed her. While waiting for their arrival, Karen tries to get white bystanders to take her side in the uncalled-for incident, but they were not having it!

Trader Joe's Karen Flipped Out After Being Asked To Wear A Mask

A Karen at a San Fernando Valley Trader Joe's threw a privlaged hissy fit after she was required to wear a mask while shopping. Video captured of her showed the Karen yelling out and calling random employees and customers "f*****g Democratic pigs." The store's policy requires everyone to wear a mask due to the current coronavirus pandemic.

San Francisco Karen Gets A Punch To The Face After Taunting A Black Woman

Another "Karen" has gone viral after she dared to taunt a Black woman in Sacramento, and got a response she probably wasn't expecting.

Nicknamed "Sacramento Karen" she accepted a challenge to call a Black woman the n-word, in a convenience store. As the back and forth grew more heated, the Black woman told "Karen" that if she called her the n-word again, the outcome would be ugly. 

Central Park Karen Threatens To Call Police

After being asked to lawfully leash her dog by Black birdwatcher, Christian Cooper, this infamous Karen, Amy Cooper not only sounds off with inaccurate threats but pretends to call the police and almost strangles her dog in the process. 

Cookout Karen Calls Police On Black Family BBQ

Let's not forget the 2018 incident of cookout Karen who took it upon herself to call the police on a Black family Oakland who was having a family-friendly bbq at the Lake. Karen, who thought the family wasn't following park rules, pulled out her cell-phone and called the police. 

Coughing Karen Spreads Germs in Bagel Shop

An unmasked woman is filmed in a New York City bagel shop in Queens after she overhears a customer asking about the restaurant's mask-wearing policy, Karen soon yells expletives and purposefully coughs on other customers who are waiting in line. 

Hammer Karen Attacks A Car

In Chatsworth, Calif a lady films a woman who is damaging her vehicle by hammering the right passenger and rear door. "Get the f*ck out this neighborhood," the unidentified Hammer Karen says before encouraging her Latin neighbor to call the police.

"Go back to Mexico," she continues kicking down her neighbors garbage.

Black Lives Matter Stencil Karen Threatens Homeowner

While a Filipino man decides to stencil the Black Lives Matter phrase on his own front retaining wall, a white couple decides to call the police. Stencil Karen then decides to queue up her lying rant. 

Racist Karen Hurls Slur and Then Runs to the Cops

In Holland, Illinois, a Karen calls a young Black woman a racial slur before driving to the police department to ask for her help. "I'm tired of the looting," the Karen says. "I'm so fed up with this sh*t." Unfortunately for the in distress Karen, this young Black woman had time today to capture the full incident on video. 

Corner Store Karen Gets Slapped

The infamous, "you need to go back to your country" line spewed with hate comes out of this  Karen's mouth as she harasses a young woman who is minding her own business at the check out counter. After Karen is called out as a racist, she then attacks the man who is recording the whole incident but that is just this half of this fiery encounter.

Complaining COVID Karen Hates Her Mask

With cases of the novel coronavirus pandemic still climbing and sitting at more than 2 million cases with more than 115,000 deaths in the United States as reported by the CDC, this overdramatic Karen hopped on to her Facebook Live to publicly outcry her discomfort when wearing a mask that has been recommended by the CDC. 

"Friends, look at the numbers and tell me why everybody is living in fear. Tell me why we're putting these things on, and being able to breathe," she said.

Claiming that wearing the mask made her feel "dizzy," and her hands "tingly," this Karen sure knows how to put on a show. 

Loud Mouth Karen Hurls Slurs

As a Karen in Asheville, North Carolina goes off at the mouth, she is seen flipping her middle fingers and going toe to toe with protestors as she yells the N-word 10 times. 

Driver Side Door Karen

There are way too many insulting words to list that come out of Karen's mouth, but here's another Karen at it again. Walking up with her arm stretching high up as her middle finger pokes out, Karen storms from her red truck right into the drivers side of another car yelling and screaming. After she finally makes it back to her vehicle she then pokes her head out the window continuing her racist and homophobic rant. 

Parking Lot Patrol Karen Blocks Car With Her Child And Stroller

A Black woman in Michigan was blocked by a Karen who refused to let her back out of a parking spot at the Detroit store. As the Karen had her baby in a stroller, she chose not to budge calling the Black woman names before calling the police. 

Here is the full 14-minute encounter:

Spitting Karen Targets Black Cop

After Karen gets removed from an event she then decides to fake spit on a bystander, provokes a Black cop with her words, and attempts to through her shoe before being arrested.