2022 MET Gala: Here's What We Know About Cardi B's Iconic Look And Stylish 90s Updo!
We spoke to hairstylist Tokyo Stylez about how to recreate the fabulous hairdo!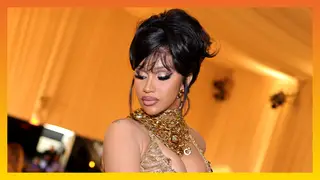 Cardi B knows how to make a grand entrance—especially on fashion's biggest night out! On Monday (May 2), the 'Money' rapper sent the paparazzi into a frenzy when she arrived outside the Metropolitan Museum of Art in a fabulous Versace convertible.
By her side was none other than the brand's creative director Donatella Versace, who dressed Cardi in a fabulous custom creation for the 2022 Met Gala. It is worth noting that Monday was also Versace's 67th birthday.
After snapping a few photos outside, Cardi later sauntered onto the red carpet to give onlookers a closer look at her golden gown that featured layers and layers of the brand's signature Medusa medallions and gold chains. According to WWD, it took 20 people approximately 1,300 hours to complete the halter dress that has quickly landed on our list of iconic looks.
To take the eye-catching ensemble to the next level, Cardi enlisted the help of her trusted glam squad; makeup artist Erika La' Pearl and hairstylist Tokyo Stylez.
This morning, we caught up with Tokyo to learn what it took to create the glamourous 90s-inspired look that's getting rave reviews on social media. Let's just say we are impressed!
"We didn't decide on the hairstyle we were going to do until hours before we actually started glam," Tokyo shared with BET Lifestyle exclusively. After transforming the blonde wig into a fabulous black shade, Tokyo went to work creating the perfect updo.
"We decided to do a 90s updo because Cardi didn't want anything to take away from the back of the dress or her Versace necklace," Tokyo explained about the hairstyle that took between 6-7 hours to complete.
The chic and elegant hairstyle was definitely well received! So much so that we had to get the step-by-step on how to recreate the look using Dyson tools and TRESemmé products. Enjoy!
Check out Tokyo's step-by-step tips to recreate the look:
Editor's Note: This story/interview has been edited and condensed for clarity.