Is More A Tribe Called Quest Music on the Way?
Q-Tip is hinting they've got something planned.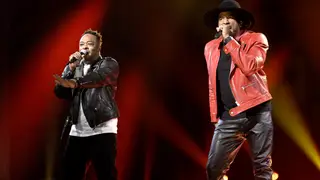 Just over a month ago, A Tribe Called Quest released into the world a project they initially referred to as their final gift.
Prior to the release of their album, We got it from Here...Thank You 4 Your service, Q-Tip detailed the makings of the project, which included posthumous verses from Phife Dawg, saying that it would be the iconic group's final project together. Now, the original member is singing a different tune, hinting that the group has something else planned.
During a recent appearance on Annie Mac's BBC Radio 1 show, Q-Tip teased fans with the possibility that A Tribe Called Quest is working on new material.
"Stay tuned for another incarnation," Q-Tip shares. "We don't intend on stopping because that was what Phife's M.O. was, like, 'This time we gotta do it and keep going,' and now he's left us with the equation of how do we do it. But, we are going to need it and we're going to continue."
Judging from Q-Tip's comments, Phife appears to be inspiring the surviving members of the group to continue keeping his legacy both vibrant and evolving.
Listen to Q-Tip's in-depth and revealing conversation with Annie Mac here.