All The Queen's Men: 5 Actors We'd Want to See in Season 2
There are a few fine up-and-coming Black stars that we'd like to see on the popular BET+ show.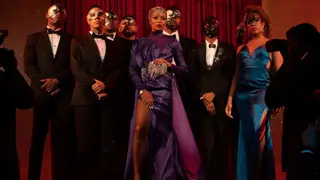 All The Queen's Men on BET+ is a nice dose of escapism for moments when you want to binge-watch a drama with juicy elements like crime and sex.
The premise of the show centers around Marilyn "Madam" DeVille (Eva Marcille), a savvy businesswoman who runs a nightclub where her star attraction is her sexy male exotic dancers. 
It's a recipe for drama, which we love a lot. But do you ever find yourself using your imagination to cast for the show? Who are some sexy up-and-coming actors that you'd love to see join the series? There is never enough eye candy, in general, and especially on a show like this. 
So here are five, ahem, performers that we'd love to see join Madam DeVille's revue.
Courtney Burrell

Courtney Burrell, also known as Chef Julian to his day one Black & Sexy TV fans, has come a long way since his start as an actor on director Numa Perrier's now-defunct streaming service. Burrell was the title character on Chef Julian, where he played a sexy bachelor who often cooked for his dates as a way to win them over. 

Since his time on Black & Sexy TV, Burrell has appeared in commercials as well as A Madea Family Funeral, and an episode of Insecure. Burrell is a good actor and obviously nice to look at. He would be an excellent addition to All the Queen's Men, so let's put it out into the universe that we will see him heat it up on the show soon.

Joey Bada$$

He's young, but seems to be wise and has an Old Brooklyn energy that's palpable even through the screen. It's an energy that would work great on this show.

Andra Fuller

Andra Fuller is another Black and Sexy TV alumnus who his day one fan met on the cult favorite, Roomie Lover Friends. He has also appeared on The L.A. Complex, Black Jesus, True to the Game, and more. 

It's also no secret that he is foine-foine, and his time on All the Queens Men is hopefully coming soon.

Lucky Daye

But, with a face, smooth, melanated complexion, and a stage presence like that — it's time Lucky Daye started acting. Better yet, somebody needs to bless his fans by making him a sexy new addition to this show.

Iman Shumpert

Iman Shumpert has been showing us for the past few years that he is ready to move beyond basketball. He recently won Dancing With the Stars due to his amazing footwork and excellent stage presence, but he has also put out music off and on — and it's not half bad. 

We've already seen him acting in Twenties, and The Chi, so he definitely has it in him. More importantly, if you've seen his sultry video for "Seance," which was a tribute to D'Angelo's "How Does it Feel," then you know he'd fit right in with the All the Queen's Men crew.