Kanye West: Drake and I Changed the World
Yeezy makes bold claim about his contributions to music.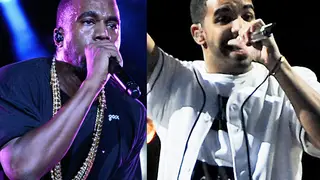 Kanye West was in a chatty mood during a visit to Washington, D.C., radio station 95.5 WPGC. The sound-bite-prone rapper talked about, among other things, the impact he and Drake have had on hip hop. 
"I was the first rapper to come up and say, 'Let's stop hip hop homophobia' and Drake is the first rapper to say, 'Hey, let's start respecting the women more,'" he declares. "He came and said, 'Wait a second, we're not just going to be like droppin' the b-word all day long because it does impact our women and take away from the idea of family," Yeezy explained. 
The "Bound 2" star also gives props to the family of his fiancèe, Kim Kardashian, with whom he has a baby daughter, North West, for creating a turning point for interracial relationships in America. "The Cosby Show that I grew up on is part of the reason why America was prepped to accept, you know, a middle class Black family in that way. And a lot of what the Kardashians do, that I don't think they get enough credit, is they prep America to understand interracial relationships." 
Yeezy also talks about being cool with President Obama after the leader of the free world called him a jackass: "[Barack and I] could go to dinner. It's all good," he says, and his feud with Jimmy Kimmel and his re-imagining of symbols like the Confederate flag to "take the power" out of them. 
Listen to the full interview here.
BET.com is your #1 source for Black celebrity news, photos, exclusive videos and all the latest in the world of hip hop and R&B music.
(Photos from left: Kevin Mazur/WireImage,  Sonia Recchia/WireImage)