So This Is Why Reggie Bush's Wife Didn't Leave Him Over His Side Baby...
It all makes sense now.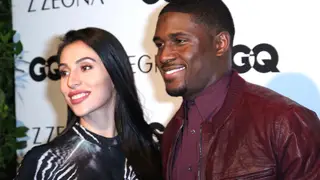 The biggest mystery of NFL player Reggie Bush's pregnant side chick drama wasn't whether or not he's really the daddy (turns out he is), it's how on Earth his wife Lilit Avagyan stayed by his side smiling through the whole ordeal.
Well, now we have a pretty good reason why.
Just weeks after his side chick Monique Exposito gave birth to their son (on Super Bowl Sunday, no shade), Lilit announced that she and Reggie are expecting a baby.
According to TMZ, Lilit took to her private Instagram account to share the news with her followers. Under a photo of her and her athlete hubby sharing a kiss was the caption "birthday love #HBD" accompanied by a baby bottle and chocolate bar emojis.
To further prove they're expecting, the couple was seen out in Los Angeles working out together, with Lilit proudly sporting her baby bump.
This will be the couple's third child. They already have two children together, a 1-year-old and a 3-year-old.
This all comes on the heels of Bush's alleged side chick exposing him for cutting her off after she made their deal public. Messy.
Catch up on Reggie Bush's baby daddy situation in the BET Breaks video above.
See how Twitter reacted to the couple's news below: