Camille Cosby Defends Her Husband: 'He Is the Man You Thought You Knew'
Bill's wife of 50 years shoots down allegations.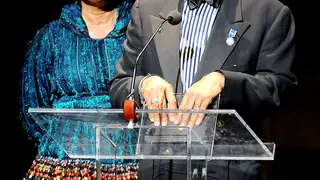 Bill Cosby's wife, Camille Cosby, has issued a statement in support of her husband after nearly two dozen women have come forward with claims they were drugged and, in some cases, raped by the comedian. 
"He is the man you thought you knew," Camille Cosby says in the statement, according to ABC News and CBS News. 
"A different man has been portrayed in the media over the last two months. It is the portrait of a man I do not know. It is also a portrait painted by individuals and organizations whom many in the media have given a pass," Mrs. Cosby wrote. "There appears to be no vetting of my husband's accusers before stories are published or aired. An accusation is published, and immediately goes viral."
On Sunday, Page Six reported on a recent phone conversation between reporter Stacy Brown and Cosby, with the embattled comedy icon asking the "Black media" to remain impartial. He also talked about his wife's support during the past several weeks. Asked how his wife has been holding up, he said, "Love and the strength of womanhood. Let me say it again, love and the strength of womanhood. And, you could reverse it, the strength of womanhood and love."
Bill and Camille Cosby tied the knot in 1964 and celebrated their 50th wedding anniversary this year, making them one of the longest-lasting couples in showbiz history.

Click here to win a trip to the Super Bowl Gospel Celebration in Phoenix, AZ, plus 4 tickets to the Big Game. 
BET.com is your #1 source for Black celebrity news, photos, exclusive videos and all the latest in the world of hip hop and R&B music.
Click here to subscribe to our newsletter.