The Resilience of Meek Mill
The Philly rapper has endured a lot — and still he rises.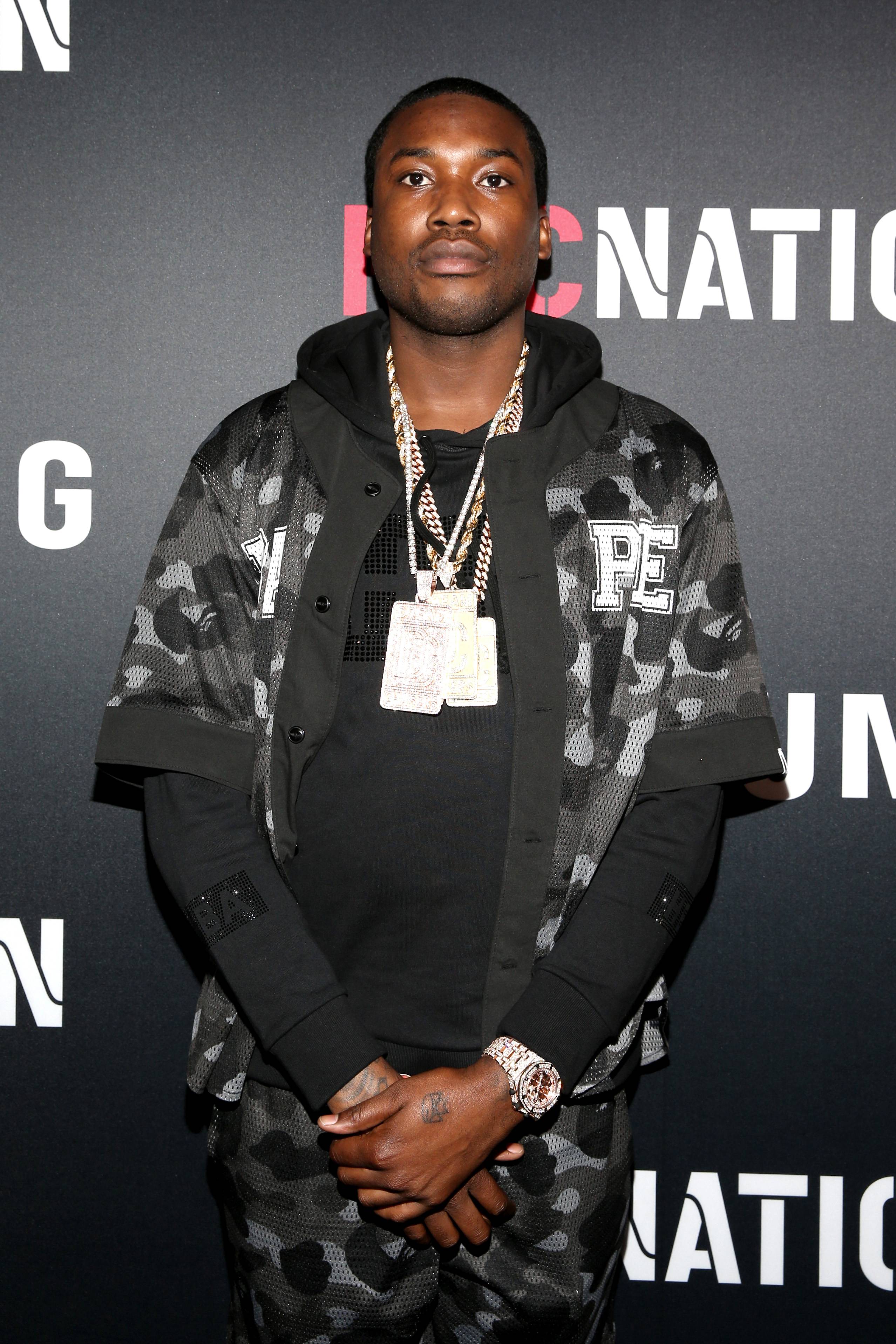 Over the past year or so, it seems as though Meek Mill has had quite a few Ls to his name. The Philly rapper has been entangled in a series of clapbacks. from internet exchanges with some of the hardest rappers to some of the softest, his lyrical capabilities — and even, at times, his manhood — were challenged. And still he rises. Is Meek Mill the most resilient rapper in the game?
On the cover of Meek's latest mixtape, DC4, we see a reimagined photo of his mugshot at 18 after being brutalized by the police. It speaks to his series of issues with the law, but also to his life of surviving beatings literally and figuratively. In 2008, Meek was convicted of drugs and weapons possession and did a stint in prison with a 2009 release. Around the same time as his sentence, his debut mixtape Flamers hit the streets. In 2011, he aligned with Rick Ross and his Maybach Music Group empire, dropping his critically acclaimed Dreamchasers project in 2011. He dropped two more in the Dreamchasers series in 2012 and 2013, but the law chased their own dreams of locking him up.
Meek violated his probation twice (in 2012 and 2013), just as his debut album Dreams and Nightmares made its rounds. By 2014, his refusal to report his travel while under probation caught up to him; his probation was revoked and he was back in prison for five months. His time away was unceremonious — despite a modicum of fame, Meek was still a new kid on the block. Most rappers are met with #FreeSoAndSo hashtag movements, suggesting their crimes are somehow abstained due to their lyricism. And while Meek had some fans expressing #FreeMeekMill sentiments (including Drake, ironically) few champion for the upstarts (see: Bobby Shmurda).
And then 2015 came: the year Meek Mill truly met the internet. His relationship with Nicki Minaj traveled beyond the #newcouplealert status, giving way to keyboard thugs posturing over the mismatch between Meek and his girlfriend. Then a month after the June release of his first No. 1 album Dreams Worth More Than Money, Meek found himself in a potential career-killing beef with Drake.
After Meek tweeted that Drake didn't write his own lyrics, Drake released two cuts, "Charged Up" and the venomous "Back To Back," attacking various aspects of the Meek Mill aesthetic. Besides the one liner "Is that a world tour or your girl's tour?," the songs created a multitude of derivative slander in the form of memes and GIFs picking apart Meek Mill in a way that only the internet can. And for the most part, Meek fell silent by internet standards, releasing two relatively forgettable songs , "Wanna Know" and "War Pain." However, DWMTM still went Gold, just like his first album. Meek was confused. "N****s tried to crucify me on the internet, but when I go out to the club, my s**t sold out," Meek recently told Taxstone on his famed Tax Season podcast. Meek is street, where hustlers don't tweet, they show up on your doorstep. He didn't realize the web's lack of tangibility emits nothingness.
That beef reverberated and still does to this day. While Drake took jabs on a few cuts, including "4PM in Calabasas," Meek returned the favor on the cut "Litty" off DC4 with Drake's other arch-nemesis Tory Lanez, who delivers the poison, "They be making memes, I be making millions / I just counted up a Quentin Miller / A QM, that's a quarter-milli," in reference to Drake's rumored ghostwriter from the onset of the beef Meek started.
More noteworthy beef ensued once Meek found himself in a war of words between The Game and Sean Kingston. He decided to charge at Game on his remix to Young M.A's "OOOUUU" with Beanie Sigel and Omelly tacked on. Then, Beanie switched sides to come for Meek on a series of diss tracks, including the nefarious "I'm Coming." Add to that more internet jokes that Meek lives in Nicki Minaj's Beverly Hills mansion (where his name allegedly isn't on the lease), and it would appear that Meek Mill is a non-stop rap punchline. Yet he's not. Scan Drake's Instagram for #DC4 hashtags in the comment section. They're there. And while this latest project doesn't exactly emit the social commentary the cover art might suggest, there are still pounds of aggressive storytelling told in a way that only Meek can tell them: where truth meets turn-up.
A battle rapper since the age of 13, it's clear that Meek Mill is cut from a different cloth. He comes from a place where overstepping your boundaries gets you killed. A place where rappers can't hide behind the internet or run to the studio for retaliation. "If it wasn't for the rap situation, I would be dead or in jail," Meek said on Tax Season. And it's believable. Having lost his protégé Lil Snupe in 2013 just as his career was getting started, life has consistently come at Meek pretty fast. But he still gets back up.
Perhaps it's because our perception of Meek Mill isn't his reality. He admits on the podcast that this new wave of rap bravado is not in tune with his trajectory. Success is earned, not retweeted. "I never said I was John Gotti. I never said I was on this super mafia type level. Official is official," he says. "There's only one way to do it. You've gotta earn 'official.' You can't rap into it, you can't look into it." It's the same reason why his previously defunct Instagram account was flooded with photos of Learjets and yachts as opposed to guns. He's not here for misleading impressions. "I don't wanna put that in those young boys' heads."
So here we are, as Meek Mill has weathered a storm and remarkably left unscathed. His 2015-2016 track record of backhands falls upon blind eyes now that DC4 is in their ears. And being the most transparent he has been in years on Tax Season, we learn the real secret to Meek Mill's resilience is simply being himself. "This is my life, and I'm OK with that," he said, punctuating it with beaming pride that he's on his girl's tour, making money together. The cyberbullying means nothing as long as the checks clear on time. And for Meek, the biggest proof of success is having no "survivor's remorse" and no street manifestations of the internet's antics. "Meek Mill still wasn't touched. Meek Mill jewelry still sittin' on his neck. Ain't nobody did nothing to Meek Mill. So I'm chillin, I'm being myself," he says. "I don't have to be the toughest guy."