Reggie Bush Says He's "Done" Playing Football
The former Heisman Trophy winner and NFL running back announced he's hanging up the cleats live on television.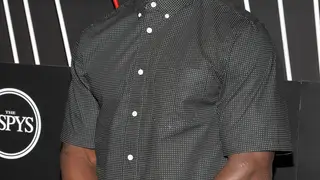 The former Heisman Trophy winner and NFL running back is officially hanging up the cleats on a career that saw many ups and downs.

During an appearance on NFL Total Access Friday (December 15), Bush broke the news that he'll no longer pursue playing again.

"I'm done," he said. "It's not breaking news. I've been saying it. I said it all season long, I said, 'Listen, if I don't play this year, I'm going to retire.' Because I'm not going to spend a whole year off, come back, 33 years old, trying to get back in the league. Listen, once you get to a certain age as a running back, they just start to slowly weed you out."

Bush played for the Miami Dolphins, Detroit Lions, San Francisco 49ers and most notably, the New Orleans Saints during his 11-year career. He won a Super Bowl with the Saints in 2009.

Reggie was plagued by injury during his time in the NFL, however it didn't stop him from having two 1,000-yard seasons.

Bush is likely heading for the eSports world during the early years of his retirement. We wish him the best of luck.