Former Seahawks Linebacker Shaquem Griffin Announces Retirement
He made history as the first one-handed player to be drafted in the NFL.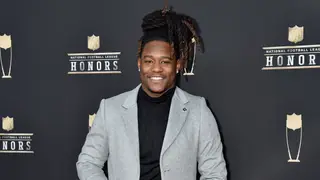 Shaquem Griffin has officially announced his retirement.
Penning an essay for The Players' Tribune, the 27-year-old former Seattle Seahawks linebacker made history as becoming the first one-handed player to be drafted into the NFL after being picked by Seattle in 2018. At the age of 4, his left hand was amputated because of amniotic band syndrome, which is a congenital condition.
Griffin was signed to the Miami Dolphins last year but was released before the season. He revealed that because he is not playing with his twin brother Shaquill, who is on the Jacksonville Jaguars after signing as a free agent last year, the 27-year-old has decided to retire.
"I worked out for the Cardinals, the Titans and the Jets, and then I got calls from Buffalo, Dallas and Atlanta. But after that Jets workout, I realized something. All this traveling around, working out for teams, trying to catch on somewhere, trying to hang on -- it wasn't what I wanted. Football had already given me so much, and the only thing I still really wanted from the game was to play with my brother again," Griffin wrote.
The NFL congratulated Griffin on his retirement, tweeting that he is "a true inspiration."
Griffin, who was signed to the Seahawks' practice squad after being waived and promoted to Seattle's active roster later that season, appeared in 46 games with the team in three seasons, tallying nine tackles, three quarterback hits and a sack.
The Seahawks congratulated Griffin on his retirement Wednesday, tweeting: "Your story will be remembered for generations."