Pharrell Williams' Foundation Black Ambition Awards $3.2 Million To Emerging Businesses
The foundation is dedicated to helping entrepreneurs thrive by bridging the wealth gap.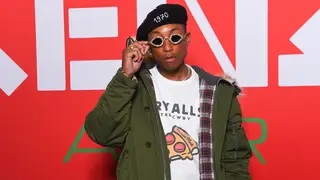 Pharrell Williams is making some Black-owned businesses very happy these days.
On Thursday (Nov. 9), the hitmaking producer's nonprofit foundation—Black Ambition—awarded $3.2 million to deserving Black and brown entrepreneurs at the organization's third annual celebration, called Demo Day.
The competition kicked off with a nationwide search that was narrowed down to 50 finalists, then the final 36. At the New York event, three businesses received top honors.
The grand prize of $1 million was awarded to Antoinette Banks, CEO and Founder of Expert IEP. This parent-facing app optimizes existing Individualized Education Plans with predictive AI for children diagnosed with a disability. Other top prize winners included ECOMSPACES, a one-stop-shop for e-commerce solutions ranging from product photography to order fulfillment, and HBCU grand prize winner, Monocle, a social e-reader that creates a community-focused reading experience, who were awarded $250,000 and $200,000, respectively, towards their ventures.
Black Ambition originated in 2020 and strives to empower Black and Hispanic communities by bridging the wealth gap. Since its inception, the organization has helped over 5,000 businesses and has awarded approximately $10 million to finalists.
"Demo Day is a powerful testament to the transformative potential of the Black Ambition Prize," said Black Ambition CEO Felecia Hatcher. "Our impact, illustrated by the 36 top finalists, is a testament to the tangible change we're creating for underserved communities."
For Pharrell, this has been a year of historic boss moves.
In February, he was named the new men's creative director for Louis Vuitton. The announcement was shared via the brand's account on Instagram.
"Pharrell Williams is a visionary whose creative universes expand from music to art, and to fashion – establishing himself as a cultural global icon over the past twenty years. The way in which he breaks boundaries across the various worlds he explores, aligns with Louis Vuitton's status as a Cultural Maison, reinforcing its values of innovation, pioneer spirit, and entrepreneurship."