Waka Flocka Flame Believes Married Couples Should Not Have A Prenup
"That's what's wrong with couples."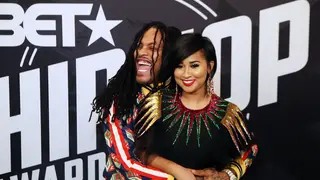 Atlanta rap star Waka Flocka Flame says his marriage is doing just fine without a prenuptial agreement to his wife, Love & Hip Hop: Atlanta star Tammy Rivera.
Recently, the two stopped by Dish Nation and the topic was brought by co-host Gary With Da Tea, who expressed that he feels every couple should have a prenup. However, Waka had a different perspective toward the matter. 

"For me, love doesn't stand on the pedestal as money, and money could never stand on the pedestal as love. If you love a person, it shouldn't be money. It shouldn't be sick, it shouldn't be fat, it shouldn't be no color, no shape, nothing," he elaborated. "Now for me, if I marry you and I'm this rich guy, you rich, too. But, I'm supposed to be the man that makes your spirit rich." 

Continuing his train of thought, Waka added that he feels "that's what's wrong with couples" today. 

"People look at the money and don't pay attention to the spirit," he said. "See, that's a big difference 'cause I could make my wife's spirit so rich, to the point that she'll be richer than me financially." 

This isn't the first time the Georgia-bred rap artist has spoken on his marriage. In 2019, the Flockaveli artist told EBONY that he cut off his friends that were not supportive of him forgoing a prenup. 

"'Get a prenup, get this, and all this.' I'm like, why are you thinking about my money and not my well-being? I noticed everybody that asked me, 'You got a prenup?' I never talk to them again," he shared.

Listen to Waka Flocka Flame's explanation behind why he feels married couples don't need a prenup.