DMX Bankruptcy Filing Hitting More Snags
Booking agency re-files lawsuit, adding to X's financial fight.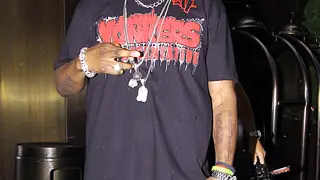 DMX's attempt to "reorganize" his finances is becoming quite the battle. A rep for the rapper recently came to his defense to say that he did not steal advance money from a booking agency, as the company alleged in an updated lawsuit, threatening X's Chapter 11 filing.
Heavy Rotation sued the "Party Up" rapper for more than $500,000 last year, and filed new legal documents earlier in the month to get what they feel they're owed for fronting X several advances, including as much as $50,000 to put towards child support bills, which were restricting his international travel. 
Domenick Nati, a representative for X, denies the former Ruff Ryder even received any cash, much less owes anything back. "Any financial transactions in this case took place solely between the booking agency and DMX's former manager," he said in a statement released yesterday (Oct. 22). "DMX did not personally review, witness, or agree to the terms that are mentioned in the case."
In addition to the financial threat of the lawsuit, X also faces the U.S. Justice Department, which is challenging his Chapter 11 filing altogether. U.S. Trustee Tracy Hope is pulling for the Yonkers native to have his bankruptcy protection commuted to a Chapter 7 liquidation, which would require him to sell off his earnings to pay debtors.
"The debtor's actions have eroded the confidence of the Office of the United States Trustee and others," Hope wrote in documents filed last Friday (Oct. 18), citing inconsistencies in his financial paperwork and a missed meeting with creditors last month. She also noted a pattern, paralleling X's behavior to his 2009 bankruptcy filing, which was denied by the court because he "unreasonably delayed" the process.
X filed for Chapter 11 bankruptcy in July, listing under $50,000 in assets and 1 to 10 million dollars in debt. The filing, he said, would "enable me to reorganize my financial affairs."
The U.S. Bankruptcy Court will consider that and Hope's request at a Dec. 5 hearing.   
BET.com is your #1 source for Black celebrity news, photos, exclusive videos and all the latest in the world of hip hop and R&B music.
(Photo: Said Elatab / Splash News)