You Can Now Get 6lb Shapewear With An Insert That Is A Replica Of Kim Kardashian's Butt
The shorts measure 42 inches around and will be $650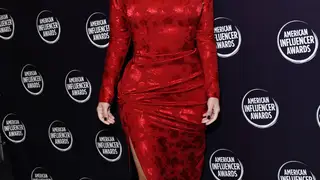 Ever wanted to walk a day in Kim Kardashian's shoes? Well, now you can thanks to a trio of Scandinavian artists. 
Kim launched Skims shapewear last year, selling out almost immediately. But earlier this month, during New York Fashion week, three artists debuted their version of Kim's actually bottom that will be available for sale. The silicone shorts called 'The Bum,' will go on sale in limited quantities this spring, priced between $450 to $600 each.
The trio teamed up with Swedish fashion designer Beate Karlsson, 24, to create a wearable version.
Together, they came up with the over-the-top shorts, which weigh 6 lbs. and measure 15.3 inches across and 42 inches around.  
'We're living in a time where people are ready to undergo serious and sometimes dangerous surgeries to make their butt look like hers — all in the name of likes,' the designer told the New York Post. 
'Her a** is probably one of the most recognized and talked-about symbols born out of Instagram.' Which is true!
This may be the most interesting pair of shorts we've ever seen. But we're certain someone will buy them!