Rethink Valentine's Day With A Day Of Self-Care: 10 Black-Owned Wellness Products To Try This Sunday
Dr. Monique Rainford shares her must-haves for a day filled with self-love!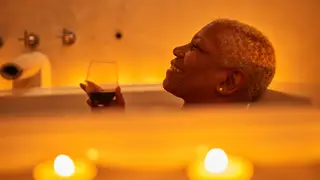 Valentine's Day is right around the corner, and who says that you need someone special to make you feel loved? Just saying. 
Since the start of the pandemic, we've all been forced to social distance and slow down our usual outdoor activities. This ultimately led to many women and men finding adventurous ways to explore self-care from the comfort of their homes—including some of your favorite celebrities! 
Now that self-care is at the forefront of our lives, what better time than now to love on your mind, body, and soul? From having a delicious dinner delivered to your doorstep to curling up in your favorite chair and reading a good book (we recommend Glory Visions of Black Beauty), join us in rethinking V-Day. And no, none of these suggestions require a date.
Make this Sunday (February 14) all about self-care! 
Looking for inspiration on how to cater to yourself? Look no further. We talked to Dr. Monique Rainford, a Harvard Medical School graduate and OB/GYN who is passionate about giving back to underserved communities of color. The wife and mother of two kindly gave us her must-haves for creating a heartfelt experience that will have you glowing from the inside out. You'll even be able to add some of these products to your everyday self-care regimen. 
As a bonus, our BET Style Editors curated the following list with Black-owned brands that will make your Valentine's Day one to remember. 
Scented Candles

There is something therapeutic about a good candle, especially one that smells amazing! It helps to put your mind at ease— even on the toughest of days. 

Self-Care Journal

Building healthy habits are not only an essential step within self-care, but also a building block in dedicating time to yourself. A guided self-care journal can do more than just help you reflect, it can also guide you in turning healthy thoughts into actions. 

A Comfy Robe

At the end of a long day, wrapping yourself up in a plush luxury robe or wrap is one of the best feelings in the world. Honestly, the fluffiest ones feel like a hug.

Luxury Lotion/Sunscreen

As a healthcare professional, the evolution of skincare products has been an amazing journey to watch. What is even more beautiful is watching Black women find products that actually nourish their skin. Say goodbye to thick and pasty sunscreen. Just like foundation, we finally have options. 

A Cute Headband

Let's be honest, we ALL have bad hair days. Maybe even more now that we're mostly working from home. To combat the stress that comes from looking perfect at all times, consider purchasing a stylish headband that may become quite handy for last-minute ZOOM calls.

Skincare Routine

A good mud mask helps to reduce skin irritations (redness) and leaves your skin looking smooth and feeling amazing. It might be just what you need to help you feel luxurious, which ultimately boosts your self-esteem.

Essential Oil Diffuser

There is nothing more relaxing than diffusing your favorite essential oils to wind down at night. During the day, an essential oil diffuser can also serve as a cute trinket for your bedroom dresser.

Below, our BET Editors also included a few self-care ideas that they use to relax after a hectic day.

Nourishing Haircare Products

Shampooing and conditioning your strands not only rids your tresses of impurities, but also adds shine and prevents hair loss. It is also a great way to relax the mind and prepare for the week ahead.

Water

What would self-care Sunday be without water? Water is an excellent way to improve your endurance during exercise, energize your muscles after a workout, and help to remove waste from the body.

Body Scrub

Having healthy and glowing skin is what self-care was made for! The best way to reduce puffiness and improve the texture of your skin is to scrub it with a non-harsh body scrub that promises to leave your body feeling like satin.