White Man Arrested For The Brutal Killing Of 18-Year-Old Nia Wilson And Injuring Her Sister
John Cowell is accused of pulling out a knife unprovoked and slashing the teen as she exited a train.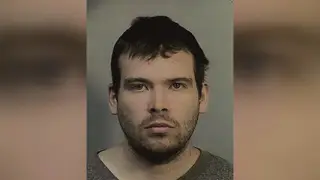 The white man accused of fatally stabbing an 18-year-old and injuring her older sister on a Bay Area Rapid Transit (BART) station platform was arrested by California police officers on Monday.
Police say John Cowell, 27, was seen on surveillance pulling out his knife unprovoked and "very rapidly" stabbing 18-year-old Nia Wilson in the neck after she exited a train at MacArthur Station in Oakland on Sunday. While Wilson's sister, 26-year-old Lahtifa Wilson, was wounded and is in stable condition, Nia passed away from her injuries, reported KRON 4.
"In my close to 30 years of police experience, it was probably one of the most vicious attacks that I have seen," BART Police Chief Carlos Rojas said at a news conference Monday.
Cowell was arrested after several passengers saw him riding a BART train. Cowell's image had been shared by police and passengers knew to contact police upon seeing him.
Following the killing of Wilson, protesters took to the streets of Oakland and demanded the police investigate the killing as a racially motivated attack.
Speaking to reporters later Monday night, Rojas said while there is currently no evidence connecting Cowell to "any type of radical group or to a white supremacist group," they have not ruled out racist motivations.
"We don't take anything off the table," he said. "While we don't have any facts that suggest he is connected with any white supremacist group, we are going to explore all types of possibilities and options."
Rojas said that security footage showed Cowell taking off his clothes after the stabbing, which the police chief said was a sign of the suspect's "consciousness of guilt."
Cowell has a violent criminal history and was on parole. He also had a restraining order filed against him in 2016 by Kaiser Foundation for harassing an employee, and he had been sentenced to two years in prison later that year for using a box cutter during a robbery.