This App Wants To Make Plastic Surgery Available In Your Home
The future is here — sorta.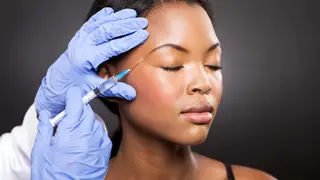 You can do almost anything with your smart devices: Need a ride? There's an app for that. Craving food from your favorite restaurant across town? Hop on the app. Now, there's details that may make plastic surgery available at your fingertips. 
Looks like the new Apple TV app, Plastic Surgery Network, has created "the first and only proficient, content-driven arena for plastic surgeons and authorities to share their prowess and online generated composition."
Not only will interested patients be able to "effortlessly search through various forms of media such as cosmetic surgery related videos, health, beauty and wellness podcasts, headline worthy articles published by credible news sources and more" but you'll be able to "shop around" surgeons in your area based on their ratings, procedural needs, skill and outcome. 
While developers are currently working on updates for the app, it has already gotten a lot of buzz. And with their upcoming add-on elements, which include augmented reality and virtual reality technology, you may be able to go under the knife in the comfort of your own home. Sorta.