Mind Your Money: This Entrepreneur Learns To Align Her Mission And Business For Financial Health
"Post-college is when people need the most help with their careers."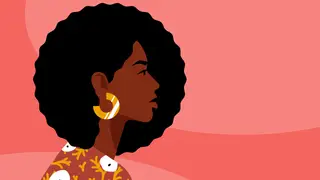 Occupation: Founder of entertwine, a startup that uses artificial intelligence to help people develop their entertainment careers. She also works at a nonprofit that helps people engage with their Congressperson.
Salary: $19,000 from the nonprofit job. She does not take a salary from her startup.
Goal: More funding for her startup
Entrepreneur Kyiana Williams knows she has a brilliant startup: Her company entertwine uses artificial intelligence to help up-and-coming artists develop their entertainment careers.
Now, she is focused on finding additional investors who love her company's mission just as much as they love the artificial intelligence technology that her company uses.
"(Too many potential investors) don't care about the people we are affecting or the good we are providing, especially for diverse, underrepresented communities," said Williams, 26, of Los Angeles. "They just want the tech because it means that if I die tomorrow, the tech will still be alive.
In a perfect world, Williams wants investors who care about how she is providing career navigation in a largely freelance entertainment industry. She wants investors who see the potential for "work for all." She's looking for investors who dream bigger than "this could be sold to Google, and then we can be done and be happy that we are acquired." 
Williams first realized the need for her business as a dramatic writing major at New York University. During her junior year, she landed a gig to be a producer for a television show that was going to be a theater production. However, finding the talent - director, lighting designer, several actors, and more - to work on production was difficult. She asked professors and others for help but didn't receive the assistance needed. Luckily, the production didn't go forward, but Williams immediately realized a need for more hands-on help with creatives.
"There is no safety net," Williams said. "There is no guide to be in this field with my degree."
That's where entertwine, which she started in 2019 but ramped up over the last two years, helps. It aims to be the career development center that follows graduates after college. Williams' philosophy is that it's counterintuitive that career development centers only benefit students, and she says that post-college is when people need the most help with their careers.
 In essence, colleges are not designed to help graduates. Williams wants entertwine to disrupt that system.
 "What does this process look like if someone were to care about me when I graduated and helped me through my career?" Williams asks. "What would it look like in a career that is as freelance and fluid as entertainment?"
Users sign up to entertwine and get tailored career counseling after filling out a detailed questionnaire. The counseling comes from the AI counselor on the platform and virtually from human entertwine employees. 
For instance, if a person wants to be a showrunner but has no experience, the AI counselor on the platform will recommend starting with a screenwriting workshop. The AI then goes on to offer several workshops that suit the user's location, including virtual ones such as WE screenplay, The Black List, Sundance, and others. 
In addition, entertwine can suggest festivals for users to attend. The company hosts playwriting contests and film festivals, allowing crucial visibility for burgeoning film and television creatives.
When Williams is not working at her startup, she works at a nonprofit that helps people engage with their Congressperson and earns a $19,000 yearly salary.
To make ends meet, Williams took in a roommate— her romantic partner who is earning his master's degree at the University of Southern California. Their rent on their one-bedroom apartment is $1,625 per month, a deal they nabbed during the COVID-19 lockdown when people were leaving big cities. She said that expenses are $500 to $700 per month, including gas, electricity, personal bills, insurance, and "some money to go outside," she said.
Williams' social repertoire includes free jazz concerts, art galleries, and movies.
To travel to events, Williams and her partner occasionally take public transportation because it's often cheaper than paying for gas and faster than driving. Her clothes and furniture are from thrift stores. Williams and her partner spent $2 on a table for her vintage record collection and a wood coffee table. Her authentic leather couches cost $100 in total. Appliances came with the apartment or were purchased for $10 or less.
"We go to the most high quality, inexpensive thrift stores we can get to," Williams said.
She has $33,000 in student loan debt and $17,000 in credit card debt.
Elizabeth Galbut, co-founder of SoGal Ventures, a women-led, next-generation venture capital firm, worked a side gig as a tutor when she began her startup journey. Many entrepreneurs work part-time and full-time jobs when building their companies.
However, Galbut says it will be critical for Williams to align her mission with a business model that is more financially healthy for herself and her company.
"I think as women, we do love putting the mission first and putting the mission first over our personal financial scenarios," Galbut said. "But if we are struggling, it is hard for us to keep moving toward the mission sustainably."
When seeking funding, Galbut says that Williams and other entrepreneurs should also think about three things: geography, stage, and industry.
For instance, Williams can target people in the Los Angeles ecosystem who want to support local entrepreneurs. In addition, because Williams' business has a low number of employees, angel investors may be more willing to take risks on her small company (entertwine has seven employees who are paid in equity). Industry-wise, Galbut thinks that investors in human resources technology, arts, media, and artificial intelligence are who Williams should seek.
In addition, governments often have departments that promote film creation in their cities. "Can she partner with governments to provide them with technology as potential customers?" Galbut asks. "She can get creative with who her paying customers are, and it isn't art students."
Applying for grants is an option for startup founders, even though they tend to be "one-offs."
The SoGal Foundation has a Black Founder Startup grant worth $5,000 and $10,000 to give to Black women and nonbinary entrepreneurs. Last year, 50 women and non-binary entrepreneurs received it.