Mind Your Money: This Small Business Owner Wants To Be Semi-Retired In Her 50s
The mom of two says she wasn't always the best with finances, but now she has alerts on her phone to remind her when bills are due.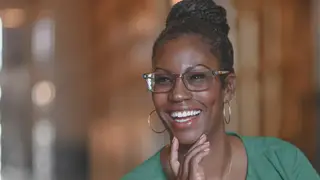 Occupation: Owner of Maximum Communications, a primarily DEI education firm
Goal: To semi-retire in her 50s; King wants to spend winters in Costa Rica
Some people think they've arrived financially when they can purchase a fur coat, luxury car, or designer handbag.
Small business owner Ayana King knew she had leveled up when she could afford to pay $20,000 in taxes and still had savings left over.
King, 43, is the owner of Maximum Communications, an agency that focuses heavily on diversity, equity, and inclusion education. After almost four years in business, her agency has afforded her a six-figure income (her previous job paid $50,000 per year) and a new vision for life.
"This has been a growing experience for me," said King, who says this is the first time in her life that she has disposable income. "I see what is possible, and I say, 'Why not me?'"
King, who can work remotely, wants to be fiscally responsible so that the family can afford good healthcare and have healthy bank accounts when her husband retires from his job at Ford.
 In her perfect world, King would be semi-retired in her 50s, and she and her (then-retired) husband would become snowbirds, ditching Detroit's cold winters for Costa Rica's sunny beaches.
"Wealth to me is time and money freedom," said the mother of two sons, ages 12 and 16.
King, who has worked since she was 15 years old, says that she wasn't always the best with finances. She got a credit card at age 18 and didn't always pay on time. These days, she has alerts on her phone to remind her when bills are due. 
"Being a business owner made me have to be that way," King said. "I did not want to fail."
She grew up in a middle-class home, but her family never talked to her about money, credit cards, or interest. "I ruined my credit early on because I didn't recognize how serious it was and that it can ruin your financial future," said King, who now has a credit score close to 800.
At 23, she moved out of her family home into an apartment, worked in billing at a dental office, and juggled college. She calls herself a two-time college dropout but obtained her degree at age 38. She was her school's student commencement speaker. 
Before launching her business, King worked in the senior living industry, working her way up from life enrichment director to corporate communications manager. "I saw a lot in assisted living," King said. "Everyone should be able to live with dignity, and unfortunately, that's not always the reality."
While King said she learned a lot in the senior living industry, she realized that her next "step up" would be opening her own firm. She gave herself a year to get her firm running or she would return to working a day job. However, her husband made sure that she didn't look back.
"He kept telling me "What you're doing is working, be patient," King said. 
In two-and-a-half years, King hit her stride. She worked LinkedIn "like a job" to make connections with her ideal clients.
She's ready for her next goal. "I've had retirement dreams since my 20s," she said.
To prepare for semi-retirement, King wants to pay double on her under $1,000 per month mortgage. She has $100,000 left to pay on her 1890 vintage home. She also wants to pay off her $13,000 car loan.
She has a 401(k). Her family spends about $500 monthly on groceries and enjoys dining at steakhouses.
King's husband has a savings account for the children's college. The family will be looking for scholarships. She doesn't want her sons to have student loan debt. She has $30,000 worth.
Travel is one of the family's favorite pastimes. Last year, they made a 10-day family trip up the West Coast, starting in Southern California and flying out of Oregon. King spends $300 per month on a personal trainer, and the family has a $75 per month YMCA membership.
Her business expenses include a $5,000 per year database of media clients and a $60 per month LinkedIn premium account.
Nicole Brown-Griffin, founder of Late Bloom Advising, says that with the rising costs in America and the increasing life span, people can estimate living on about 65% to 85% of their working income before retiring. However, a lot depends on the couples' lifestyle and the types of insurance (liability, health, disability, long-term care) they have in place, she said. There are online calculators that help with planning.
Brown-Griffin says people should have as little debt as possible going into early retirement. "Think about which spending habits, if any, can be eliminated," Brown-Griffin said.
Brown-Griffin cautions parents about spending all of their potential retirement income on education for their children.
"This may be hard to hear or agree with, but couples and parents need to set themselves up for financial success before their children so they won't be dependent on their children in the future," Brown-Griffin said.
Before retiring, Brown-Griffin says that couples should::
Make sure both spouses know where all of their accounts are
Know who their financial advisor is
How to log into each billing account and how to pay them
Vow to keep an open dialogue about their current financial position and future plans.
Will Hatton, the founder of The Broke Backpacker, says Costa Rica is a great place to retire. However, he said that retirees need to factor in their budget a home with a generator that is also built to withstand heavy rains and storms. In addition, retirees will need a car sturdy enough to handle potholes on the road. In addition, being financially prepared in case a volcano erupts is essential.
"There are quite a few expenses you need to consider that you might not consider if you were retiring somewhere else," said Hatton, who has been a professional traveler for more than 10 years.