Mind Your Money: Finance Tips For This Attorney Making $70k Hoping To Launch Her Own Private Practice
This social butterfly is booked as bridesmaid in five weddings but these types of expenses are hard on her pocketbook.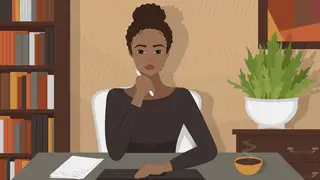 Money Shift: Recently opened her own law firm 
This year, Ashley Michelle's social calendar is booked and busy as a bridesmaid in five weddings, some in international destinations.
The 31-year-old Washington, DC attorney is a natural magnet for friendships with her outgoing personality. However, her thriving social circle comes at a cost. "I didn't go anywhere in 2021, so now in 2022, I am FOMO everywhere," says Ashley, whose 2022 includes trips to Houston, Las Vegas, Jamaica, and Cancun. "Sometimes I'm like, 'Girl, sit down somewhere!'" 
The four-day trip to Houston ran her $1,000 for the food, drinks, and Uber. The flight and all-inclusive stay in Jamaica cost $1,300. "I cannot be a bridesmaid in any more weddings," says Ashley. "I need to start telling people, 'No.'"
Recently, the social butterfly launched her own law firm focusing on business and intellectual property. As she works to build her firm she is still working her day job as an attorney earning a $70,000 salary.
She works remotely for her day job and is not taking on any more responsibilities as she focuses on her private practice. Ashley took out a $10,000 loan to pay for her firm's start-up costs which she anticipated paying off in five months, but it appears it will take her a year.  
"I think my finances are all over the place," she says. Her rent is $1,600, which is somewhat affordable for a one-bedroom in Washington, DC. one bedroom. She found a special pandemic offer of three months of free rent.
To save money, Ashley has an agreement with a colleague over streaming—she pays for Netflix, and her colleague pays for Disney+ and Hulu. They share accounts. "Like, why do we have to do this?" she asked. "We're attorneys."
During the pandemic, she even joined an investment group and dropped $5,000 into the club. "I thought I would be one of those millennials who would hit a lick during the pandemic," she says.  However, the group made some money and then lost it. "We were all inexperienced," she admits. "You have this desire… but none of (us) are experts or have the time to devote to make it successful."
Ashley says she's not a big clothing shopper but spends on "monthly maintenance." Her nails and waxing run $150 per month, and her hair costs her $150 to $250 monthly—her knotless braids cost her $190 - $40 for the hair, $50 to get her hair prepped and dusted and $100 for the service. Other times, she does her hair at home.
She has $1,000 saved in her emergency fund. She hired a certified public accountant to help with her taxes. The CPA suggested that she fully fund an IRA, but Ashley says she doesn't have any money to save for retirement. 
She has $200,000 in law school student loan debt and a nagging student loan from undergrad that's still hanging around. "Sometimes I'm like, 'Girl; you don't 'make enough money," she says. "Other times, I realize that it's not a money issue - it's a 'you' issue."
Her primary focus now is getting her law firm up and running and handling her finances. "I want to buy a house, and I want to get married one day, and I am not having a $500 wedding," she says. 
Liz Salas Evans, president of Cayena Capital Management, says that Ashley is in the seeding phase of her company, so it will take time and nurturing for her firm to blossom.
Evans says that Ashley does not have to cut off traveling with friends. In fact, there may be great business opportunities for her if she is "properly itemizing her time,"
Evans suggests that Ashley take a few meetings with fellow attorneys in the cities she travels to for the weddings. Her travel vacations may be able to become business expenses that can be written off on her taxes. In addition, Ashley should share the vision for her practice with people she meets while traveling because "that's building a brand," says Evans.
"You talk to everyone, and you figure out how you can link these things," Evans says. "She needs to ride the wave and embrace the discomfort," she says. "She needs to be in the light at all times."