Coi Leray Is The Face of SNIPES' New Campaign
The collaboration features cool and casual streetwear.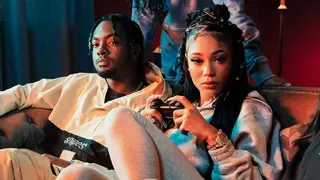 Sneaker and streetwear retailer SNIPES has tapped multi-platinum recording artist Coi Leray as a face for the brand's Q1 streetwear apparel campaign. 
A quick scroll through social media sites such as Instagram or TikTok, and you will find clips of the multi-platinum recording artist trending with her song "Players." We have to admit we have been guilty of singing along to the catchy beat.
The campaign's video is pretty unique as it is not only about the product but it also offers some insight into her life with what is filmed as a behind-the-scenes glimpse into a day in her life. 
Leray can be seen trying on different outfits, as her voice is heard talking about how she approaches life and stays confident. She can be heard saying, "No matter what happens in life. No matter the situation. Imma always stay true to myself."
In a statement, the brand noted: "Coi Leray embodies everything that SNIPES stands for - creativity, authenticity, and individuality," says Paula Barbosa, VP of Marketing for SNIPES. "We are excited to collaborate with her to bring a fresh perspective to our Q1 collection, and we can't wait for our customers to experience the unique energy that Coi brings to the brand."
The collection features various functional pieces such as hoodies, leggings, nylon jackets, and pants.
"We are excited to continue pushing boundaries and expanding our collection with unique artist partnerships like this one," said Jim Bojko, President of SNIPES. "This partnership with Coi Leray is a testament to our commitment to staying at the forefront of streetwear and sneaker culture."
You can find the apparel in all SNIPES stores and online at snipesusa.com
Check out the video below and Leray.