Joseline Hernandez Responds After Reportedly Losing Custody Of Her Daughter To Stevie J
"Let me give you the story myself."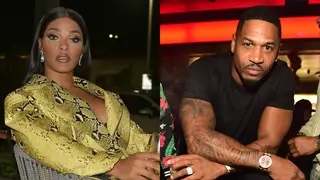 Joseline Hernandez is speaking out after recent reports that her ex, Stevie J, was awarded sole custody of their daughter, Bonnie Bella.
According to Bossip, a judge made the ruling, green lighting an order temporarily awarding Stevie primary physical custody of the 2-year-old toddler, with Hernandez having rights to visitation.
The site added that court papers also stated that the record producer/reality star would no longer have to pay the former Love & Hip Hop starlet $1,000 in child support. Instead, each parent will have to bear the costs of support on their own while Bonnie is in their care.
But Stevie isn't off the hook entirely: both he and Joseline are reportedly required to take a parenting class before they are due to return to court this fall.
After reading these alleged details of their agreement, Hernandez took to Instagram to give her own side of the story.
"Let me give you the story myself," she captioned a photo of herself and Bonnie Bella. "The Primary custody of my daughter belongs to her Mother and her Father. [It's] sad that you so called reporters obtain fake paperwork to ruin relationships. So if you had a question of her whereabouts....... She's in the sky!"
Stevie J also took to Instagram the day the alleged ruling was reported where he posted a video of him and his daughter Eva, whom he shares with Mimi Faust. In it, he addressed the matters between him and the self-proclaimed Puerto Rican princess, stressing that they are co-parenting and "everything's smooth."
He thanked his wife, Faith Evans, for her support and shouted out his exes and babies' mothers, Faust and Hernandez, in the caption.