This Week In Good Black News: Sha'Carri Richardson Is Back, 'College Hill' Has Social Media On Fire And Sheryl Lee Ralph Inspires
Plus, Janelle Monáe's latest video has everybody talking.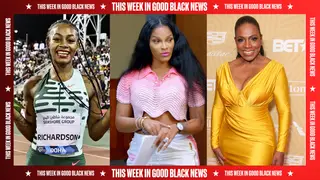 There is much to celebrate this week. Graduates are being sent off into the real world inspired by many words of wisdom, Track and Field superstar Sha'Carri Richardson is back and unstoppable, and College Hill: Celebrity Edition on BET+ is delivering some needed escapism. In case you missed it, here is This Week in Good Black News.
Sha'Carri Richardson Slays The 200-Meter Race

You can't keep a good woman down. After being barred from competing at the 2021 Olympics because she tested positive for marijuana, Sha'Carri Richardson is back. On May 13, during the 200-meter race in Nairobi, Kenya at the Kip Keino Classic, Richardson set a record time of 22.07 seconds. The victory is the most prestigious international race win of her career, reports Olympics.com. 

Her win in Nairobi is her second victory in the Diamond League circuit. In Doha, Qatar last week, she also won the opening 100-meter Diamond League event in a field that included world champions Shericka Jackson and Brit Dina Asher-Smith, who came in second and third, respectively. See the clip above.

'College Hill: Celebrity Edition' Season 2 Is Social Media's Latest Obsession

If you are not watching season 2 of College Hill: Celebrity Edition, you are missing out, and social media has made the first few episodes go viral. Ray J is back with seven new celebrities as they go all-in for the HBCU experience at Alabama State University. The cast includes Tiffany "New York" Pollard, Amber Rose, Parker McKenna Posey, Iman Shumpert, Kwaylon "BlameItOnKway" Rogers, O'Ryan Browner  and Joseline Hernandez. 

The series is currently streaming on BET+.

Janelle Monáe's "Lipstick Lover" Music Video Sets Social Media On Fire

"Lipstick Lover" is Janelle Monáe's new single from their album The Age of Pleasure. The sultry video is a celebration of queer love and has been trending for days. It shows, among other things, Monáe posing topless and singing directly into another woman's backside. 

The Age of Pleasure drops June 2. The video already has over 1.3 million views, so give it one more view and watch here.

Jamie Foxx And His Daughter Teaming Up For New Show

Despite massive misinformation about his health, Jamie Foxx is on the mend, and we couldn't be happier to hear it. The Oscar winner has a new show planned with his eldest daughter, Corrine Foxx. According to PEOPLE, they will host a musical game show tentatively titled We Are Family, which will debut on FOX sometime in 2024. PEOPLE describes the show as "a music guessing game that will feature one celebrity every episode alongside a non-famous relative. But there's a twist: the featured star will be hidden until their identity can be guessed." Sounds hella complicated, but fun nonetheless. 

Janet Jackson Turns 57 Years Old And Is Still Fab

Janet Jackson is selling out shows all over the country with her "Together Again" tour. On May 16, Miss Jackson, aka Damita Jo, turned 57 years old and is proving that Black don't crack. She isn't missing a beat, and she thanked her millions of fans for the birthday wishes. Check her out looking gorgeous dressed in Leisure Lab with makeup by her long-time makeup artist, Preston Meneses and hair by Cassidy Blaine. Watch the IG post above of JJ and friends celebrating her b-day.

Charges Dropped Against Black Colorado Ranchers Who Say They Were Victims Of Racist White Neighbors

This week, prosecutors dropped all charges against Nicole Mallery and her husband Courtney, who own a ranch in Yoder, a predominantly White town about 100 miles southeast of Denver. It is good news for the couple, who were arrested in February on felony charges but claimed it was their White neighbors who were terrorizing them, The Denver Post reports. "We are pleased with this outcome and recognize the district attorney's office for reaching this conclusion," the couple's attorneys said in a statement. "While justice has been served today, the fight for individual, law enforcement, and prosecutorial accountability are far from over." The Mallerys claimed their complaints were ignored by local authorities. The couple may file a lawsuit, according to their attorney. 

Usher Receives Honorary Degree From Berklee College Of Music

The Berklee College Of Music in Boston gave Usher (Dr. Raymond) an honorary doctorate for his contribution to music. During the ceremony, graduates perform a melody of his hits, including "Yeah!," "U Remind Me" and "Burn." The Grammy winner said in his speech to more than 1,200 graduates, "My goal as an artist has always been to inspire people to make a positive impact through my music, to make you feel something, and last night I felt proud…of the legacy that has been built and that we're building together as artists." 

The legendary Roberta Flack also received an honorary doctorate, which was accepted by Berklee Professor Gabrielle Goodman.

Federal Prosecutors Request For Remaining Charges Against Andrew Gillum To Be Dismissed

Great news for Andrew Gillum! On May 15, federal prosecutors in his corruption case moved to dismiss the remaining charges against the former Tallahassee mayor, the Tampa Bay Times reports. U.S. District Judge Allen Winsor will have to give his final approval to officially dismiss the case, but judges normally go in the direction of the prosecutors. In June 2022, Gillum was accused of funneling campaign contributions into his personal bank accounts. Gillum was found not guilty of lying to investigators, but there were remaining charges, which is what federal prosecutors are requesting to dismiss. Gillum has always maintained his innocence.

Sheryl Lee Ralph Inspires Rutgers Graduates

On Mother's Day, Emmy-award winning actress Sheryl Lee Ralph delivered the commencement speech for the class of 2023 at Rutgers University, where she graduated from at 19 years old. In her powerful speech, Ralph said, "Our country and the world took a tragic and difficult turn. Kobe died, George Floyd was killed, and then the world and everything changed when COVID-19...shut down the world. But, you stayed the course, you never gave up, you kept doing. We need people who have been through something and still have so much to give and share, that's you." 

Watch her inspirational speech above. 

Mental Health Action Day In NYC

May 18 was Mental Health Action Day and Sounds of Saving (SoS), a Music x Mental Health non-profit, joined forces with rappers Erick The Architect (see above),  Pink Siifu, Cleo Reed, Maassai, Bryndon Cook (Star Child & the New Romantic), and Deem Spencer for events at two high schools in New York City: Manhattan's Central Park East High School and Urban Assembly School of Music and Art in Brooklyn. The programs were safe spaces that included storytelling, performances, and tips on how young people can manage their mental health. Erick The Architect, who is originally from Brooklyn, told BET.com, "I'm honored to be able to perform songs that have helped through a troubled time, and I'm even more excited to be able to speak on what inspired it in my hometown!"