Who's The G.O.A.T.? Native Tongues vs The Juice Crew | Round 1
In the tournament to decide the greatest rap crew of all time, this Round 1 battle is between the Native Tongues and the Juice Crew.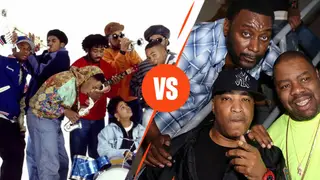 In recognition of hip hop's 50th anniversary, BET Digital, in partnership with Ambrosia For Heads, is celebrating the culture by hosting a bracket-style competition that allows you to determine hip hop's greatest crew. 
Rather than having "experts" tell you who is the greatest of all-time, this is your opportunity to collectively make that decision. After giving the opportunity to any and all fans to provide feedback on which crews should be included, 32 collectives from different regions, styles, and generations have been selected—all vying for that #1 spot. When the final battle is over and the last vote is cast, you will have determined who is your Greatest Rap Crew of All Time.
Two of New York City's most talented and colorful collectives are The Native Tongues and The Juice Crew. The two crews were fueled, in part, by a competitive rivalry between legendary NYC radio personalities. The Juice Crew were close associates of WBLS-FM radio mainstays Mr. Magic and Marley Marl. Magic and Marley's rival at KISS-FM, DJ Red Alert, was a mentor to The Jungle Brothers, who helped ignite the Native Tongues. 
Despite a radio rivalry, these two crews coexisted with respect. Biz Markie would collaborate and tour with De La Soul, while Q-Tip and Busta Rhymes would appear together on a Big Daddy Kane single. Both crews promoted Black pride, self-love, and excellence at one's craft. However, after this exciting East Coast Region Round 1 matchup, only one legendary crew can remain.
Native Tongues
By the early 1990s, the Native Tongues grew to be a force that included Queen Latifah, Monie Love, Black Sheep, Leaders Of The New School, Chi Ali, and Baby Chris and The Violators. Over time, other artists and groups orbited this core. From standout features to background vocals and skits, the familial spirit was alive on heralded albums by Tribe, De La, Latifah, Jungle Brothers, and Black Sheep. 
The Juice Crew
The Juice Crew brought the unity and spirit of the 1970s rap crews to the recording era. Hip hop radio pioneer Mr. Magic (aka "Sir Juice") hosted a platform on WBLS-FM alongside DJ Marley Marl, who, by the mid-1980s, had become one of the most innovative producers in the genre. The Queensbridge native also possessed an incredible eye for talent; he assembled a lyrical all-star squad that eventually included Roxanne Shanté, MC Shan, Craig G, Biz Markie, Kool G Rap & DJ Polo, Big Daddy Kane, Masta Ace, and others. 
Regarding its place among the great crews of hip hop, the Juice Crew helped set the gold standard for lyrical talent, competitive spirit, and the ability to balance swagger with substance.
In this celebration of hip hop and all of its talented crews, your vote decides the winner, so vote below.  
---
EDITOR's NOTE: Register for the sweepstakes for a chance to win the grand prize of two (2) tickets to the 2023 BET Awards, two (2) round-trip airline tickets, and a 2-night hotel stay on June 25. Up your chances to win by voting weekly.
NO PURCHASE NECESSARY TO ENTER OR WIN. VOID OUTSIDE OF THE 50 U.S. & D.C. AND WHERE PROHIBITED BY LAW. Open to legal residents of the 50 U.S. & D.C. who are 18 years of age or older at the time of entry. Ends at 12:00 p.m. ET on May 1, 2023. Official Rules: bet.com/grcoat-official-rules  Sponsor: Black Entertainment Television.