NeNe Leakes' Oldest Son Arrested on Charges of Felony Drug Possession and Violating His Probation
The 33-year-old was taken into custody earlier this month on multiple charges.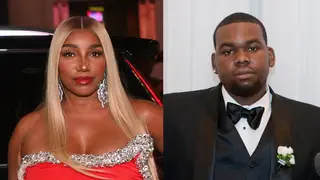 NeNe Leakes' oldest son is currently in police custody after being arrested for felony drug possession and violating his probation.
According to online arrest records, Bryson Rashard Bryant was arrested at a home in Lawrenceville, Georgia on July 3.
The 33-year-old was placed at the Gwinnett County Jail just after midnight on numerous charges. The charges include violation of probation, possession of a scheduled II controlled substance, loitering/prowling, and giving a false name, address, or birthdate. Documents show his bond is set at $6,100.
According to documents obtained by Radar Online, police were responding to calls of a suspicious vehicle in the area when they spotted Bryant sitting in a parked car. Records state that "a small plastic bag that contained a white powdery substance" was found. They also alleged a field test ran on the substance "provided a presumptive positive for Fentanyl."
Police say that Bryant tried to pass himself off as his younger brother Brentt Leakes. He also allegedly gave authorities the address of his mother's former residence. Authorities only learned of his true identity after his arrest.
This marks Bryant's latest run-in with the law. In 2011, he was hit with a DUI charge. A year later he was detained for driving with a suspended license.
Viewers of the "The Real Housewives of Atlanta" reality series may remember Bryant's 2012 arrest for stealing razors from a local Walmart. Following that arrest, Leakes refused to bail her son out.

"He's had a really easy life, so now I'm gonna show him what a hard life is," Leakes said on camera during the show. "He's gonna stay in jail, I'm not getting him out, and he can figure it out from behind bars."
The actress has yet to publicly address her son's latest incident.