People Are Celebrating Tamron Hall and All Her Black Girl Magic for Landing a Daytime Talk Show After NBC-Megyn Kelly Drama
"It's about damn time."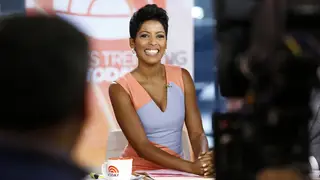 It looks like Tamron Hall recently made lemonade out of the lemons she was served and everyone is here for it. Variety announced Hall will be hosting a daytime talk show produced by the Weinstein Company. 
This is wonderful news for many people who have missed Hall during her spot with NBC News. In February, NBCUniversal announced they would be replacing the 9 a.m. hour of Today — Hall's former hour — with a new morning program led by Megyn Kelly. Now, Harvey Weinstein has taken advantage of Hall's free time and developed an even better project for her.
"I've been working towards developing a talk show for a long time, but needed to make sure I did it the right way and with the right person to take the lead," said Harvey Weinstein, co-chairman of The Weinstein Company, in a prepared statement to Variety. "Tamron is far and away that person. She's an exceptionally talented journalist whose interviews masterfully walk the line between entertainment and hard hitting. We couldn't be more thrilled to begin this new venture with her."
Upon hearing the news, people everywhere celebrated Hall and her spectacular glow up

Colleagues from NBCUniversal and elsewhere rejoiced in Hall's new gig

Many can't wait to see Hall gracing the screens of their televisions after several months of her absence