Questlove Details Story Of Being Confronted By A 'Karen' While Moving Into His New Home
When recalling the ordeal on Twitter, the Grammy Award-winning artist says the experience has left him triggered.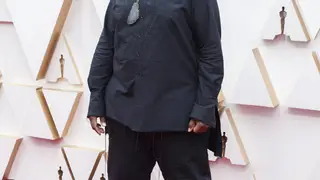 America continues to prove that no matter how rich and famous you are, you can still be the target of racism if you're Black. That point is being amplified by musician Ahmir "Questlove" Thompson, who says that he was recently targeted because of his race. 
The Roots co-founder took to Twitter to speak about a run-in he had with a man that he calls "Karen," while moving into his brand new home in Philadelphia.
"Walked in my brand new house & not even 60 secs later….got Karen'd #NotTodaySatan," he tweeted on Sunday (November 8).
In a series of subsequent tweets, Questlove described the ordeal in greater detail saying that he was moving into his first permanent home when he was interrupted by a white man questioning whether or not he even lived in the neighborhood.
"I been living out of Kippling bags, room service, bus bunks, airplane lounges, studios, my 30rock HQs, and crash apartments waiting for 28 years to get my 1st REAL 'imma grow old here' crib. so this has been an exciting time for this chapter in my life," he wrote.
Additionally, the Grammy Award-winning musician described how much he was anticipating arriving at the new home, and of all the ways he would make it uniquely his.
"Walked into my new crib and just sat there thinking about my journey: I went from CAPA to a record deal to living in Europe to making cool records & trying new avenues and now im looking at this house wondering what kind of game nights ill host," he recalled. "How loud Grace will lemme blast music before she 😡s. Or can the basement house all my records….just the general things 1st timers think abo—" before he was abruptly yanked out of his daydream.
He added: "Scuse me do you live here?" *POP* (me: can I help you? this man & his 2 dogs damn near walking in my crib) 'You own this house?'"
Questlove says he encountered an alarmed white neighbor who immediately interrogated him, asking if he was the owner. He then expounded on why the incident left him so disturbed.
"I can't explain this part. The world just stops. I've been pulled over by cops on the way to 30 rock, I've been pulled over by ICE leaving Roots gigs in Cali, I've been held in rooms by DEA in airports—I just shared on about the humiliation Jurnee and I went through grammy week," he wrote. "And most of the time I never share that stuff because—I guess the tiny violin in my head just dismisses it—-but man there is NO feeling like this type of violation. And I'm certain this guy thought he was doing his due diligence. But that s**t is triggering AF man. TRIGGERING."
He added, "It was fake passive aggressive politeness/nosey neighbor/audacity/aloofness— s**t ruined my day so much I came back to my old apartment just to let a week go by to let this anger go." "I don't even know why I'm posting this. I'm just tired of this s**t. I am man. Just tired."
At the end of his clip of tweets, Questlove cleared up any questions as to his message: "A neighbor took it upon himself to come inside my house to see if I owned it. Showed him out and shut the door in his face."
Here are some fan reactions to this all too familiar story.