Amber Rose Has One Demand When It Comes to Her Exes in Public
Don't cross this line.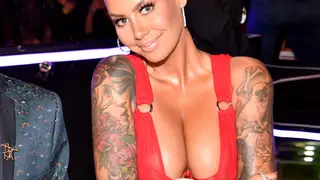 Amber Rose has a friendly relationship with one of her exes and a frosty one with another, but the last thing she wants to be reminded of when she's out and about is the men she used to be in love with. In fact, Muva has one strict rule when it comes to her exes Kanye West and Wiz Khalifa in public.
According to Page Six, Rose recently hosted a bash at Ora nightclub in Miami, but made it clear that her exes were personas non grata at the event — and not just on the guest list.
"Rose was specific in asking for no Kanye, and definitely no Wiz songs," a source says. "She wanted the night to be about herself and she succeeded." Interestingly, she was spotted hanging out with French Montana while in town.
Find out if Amber and Wiz are giving love another shot with The Wendy Williams Show, above.