Stephen and Ayesha Curry's Relationship Timeline
The powerhouse couple first met in 2003 and were married on July 30, 2011.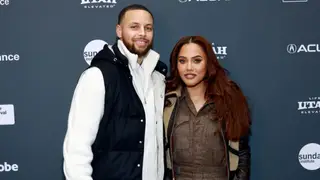 This NBA love story is too sweet not to share.
NBA MVP-winning Stephen Curry and his wife, cookbook queen Ayesha Curry, are celebrating 12 years of marriage. What better way to cheer on their success of love than going back to the very beginning?
Here is a timeline of their Insta–perfect relationship.
2003: They Meet

The couple actually met at a church youth group in Charlotte, NC. Being just young teens—Ayesha, 14, and Steph, 15 at the time—they only knew each other as friends back then. In one article, Ayesha told PEOPLE, "We were just kids," but added, "He was the cute boy at church that all of the girls were obsessed with, so I made a generalization that maybe he wasn't for me."

In The Miraculous Rise of Steph Curry biography, Brides magazine quoted Steph's sister Sydel Curry talking about how Ayesha used to flirt with him in their talks after church. "He clearly liked it. It left an impression," said Sydel.

2008: They Reconnect in Los Angeles

Several years later, the two reconnected in Los Angeles. Steph was in town for the ESPYs as a basketball player for Davidson College in North Carolina, while Ayesha was also in town for acting and modeling in LA, and the rest is history.

2008: Their First Date

While on Jimmy Kimmel Live, the mom of three said that they had their first date on Hollywood Boulevard, where she picked him up in her "98 Astro van". They visited Madame Tussauds and drank chai lattes, finishing the night with a memorable first kiss.

2008: "I Love You"

The Warriors champion and the kitchen connoisseur quickly turned up the heat, getting serious about their feelings towards each other. Ayesha was the first to say "I love you," receiving an unexpected response, she told PEOPLE.

"He said, 'I feel like I love you too, but I don't want to say it unless I'm sure because I just want to be sure that when I say it, I really mean it…I got in my car and drove home crying." Lucky for her, he soon caught up and shared his feelings during a movie a few months later.

2010: A Proposal to Remember

Steph detailed his proposal with Parents magazine, saying he acted like he and Ayesha were attending a family cookout. "So we pulled up to the house and I stopped in the middle of the driveway, got down on my knee and went into my spiel. Little did I know the whole family was looking out the window." The two were engaged in the same spot they shared their first kiss.

2011: Let the Wedding Bells Ring!

At just 22 and 23 years old, Ayesha and Steph finally locked in their love on July 30, 2011, at the same North Carolina church they had met nine years prior. Joined by approximately 400 guests, the newlyweds danced the night away as they celebrated the start of their new life together.

2012: Their First Child

Almost a year after getting married, the couple welcomed their first daughter, Riley Elizabeth Curry, into the world on July 19, 2012.

2014: Backstage Bonding

The couple attend the Nickelodeon Kids' Choice Sports Awards with their two year-old daughter Riley.

2015: Another Bundle of Joy

On July 10, 2015, the two welcomed another daughter, Ryan Carson Curry.

2016: MVP

In September 2016, Steph became the first unanimous NBA Most Valuable Player. With this great achievement, he made a speech honoring his wife.

"None of this is possible without you," he said. "You've given our two daughters an example to look up to as they grow up…I don't take that for granted at all. It's definitely special to watch you do what you do every single day—the strength that you have, the patience that you have."

2016: The Seasoned Life

Also in September 2016, Ayesha released her first cookbook, The Seasoned Life, which focused on being a mom to Ryan and Riley, wife to Steph, and her love of cooking.

2018: Oh, Boy!

On July 2nd, 2018, the cookbook maven gave birth to Canon W. Jack Curry, making the Currys a new family of five.

2019: The Family Foundation

In July 2019, the couple launched Eat.Learn.Play. Foundation together, using their large platforms and strong love to create a nonprofit organization fighting hunger, access to quality education, and providing children with a safe space to be active and engage with their communities.

2020: Spicin' Up Vacation

In February 2020, Steph shared a sexy photo from their vacation, captioning, "Vacation vibes with my one and only 😍 like dat!"

2021: 10 Years Together

Ten years, three kids, and one happy couple later, Ayesha and Steph celebrated a milestone anniversary in 2021. "Never a day goes by I'm not thankful for your presence, your beauty, your spirit! Sexy as can be inside and out & continuing to show me how amazing our God is by the creation that you are," captioned Steph in his Instagram post.

"I can't wait to see what the next 50 has in store for us. Happy day happy day!" said Ayesha in her post.

2021: Vow Renewal

To celebrate their 10th anniversary, the duo renewed their vows that September. Steph had surprised Ayesha with the ceremony, coming ready with a dramatic lacey white dress for her to wear and making sure the kids were a part of the day. Ayesha shared their special moment via Instagram.

2022: About Last Night

In February 2022, the couple debuted their game show together, About Last Night, on HBO Max, where they serve both as co-hosts and executive producers. The show joins celebrity couples on dates while they answer fun relationship trivia or participate in games.

Ayesha told PEOPLE that the creation of the show was a way for her and Steph to spend more time together. "We'd actually always wanted to do something together and wanted something around the premise of a date night," she said.

2023: Stronger Than Ever

Ayesha and Steph remain a power couple, constantly sharing vacations and family photos with their followers. In a Mother's Day post, Steph poured his heart out, saying, "RR+C Don't know how lucky we all are to have Mommy holding us down. Always! We Love you to the moon and back. Thank you for the unconditional love you pour into our babies @ayeshacurry #mothersday"