Katt Williams: 'We're All Trying To Be The Illuminati At The End Of The Day'
Is the secret society still a secret?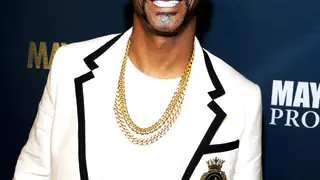 In his new comedy Father Figures, comedian Katt Williams plays a good-natured hitchhiker who is just trying to get home to his family. While his co-stars Ed Helms and Owen Wilson go on a cross-country trek to find their biological father, Williams emerges as the voice of reason, as if he's almost connected to a higher power.
The quest becomes so outlandish but interconnected that you'd almost think a secret society was pulling strings behind the scenes. So we asked Katt if he believed in the existence of the most infamous secret society, The Illuminati.
"The true unknown dynamic of The Illuminati is that, for those of us who hunt the Illuminati and do battle against them, we know they're real," Williams said. "The interesting part is we're all trying to be the Illuminati at the end of the day, because those are the enlightened ones. It doesn't really matter that this group is enlightened under fictitious circumstances, it is what it is nonetheless. It's about having the information. And as long as they have information that we don't have, then they will continue to be as real as they have always been. But they are not in any way as cocky as they'd like to be. Because we out them out any chance we get. They hate publicity. They hate to hear their name."
His co-star was a little less direct when asked about the existence of the secret society.
"We're forbidden to answer that," Ed Helms said with a chuckle. "We'll be killed if we answer that."
Father Figures is in theaters On December 22.