Jermaine Dupri Confirms So So Def And Bad Boy Records Will Battle In A Verzuz Matchup
Fans will have to wait for a date to be announced.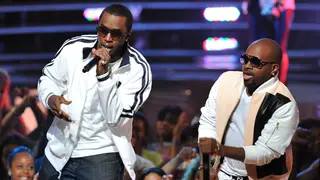 Jermaine Dupri has shared the VERZUZ battle between So So Def and Bad Boy Records will take place during his appearance at the ONE Musicfest in Atlanta, Georgia, over the weekend.
"I'm saying this to let y'all know the So So Def Bad Boy Verzuz is happening," the superproducer said.
Dupri told Fat Joe on The Fat Joe Show he would be open to battling Diddy hit for hit with their respective record labels.
"Jermaine, you for the culture," Joe began. "But if the Verzuz come on and it's live from ATL with the chandeliers. You would prefer you to be sitting in one chair and Sean 'Diddy' Combs sitting in the other?"
"A hundred percent. We gonna break the f--' internet," Dupri said.
"You know, the Internet is broken that day… That's what people want to see. That's the thing everybody keep talkin' about."
Are you ready for this epic battle?