Piers Morgan Gets Dragged To White Privilege Hell And Back For Tweeting White Girls Should Be Able To Say 'N****s'
A campaign to #blockpiersmorgan quickly started trending.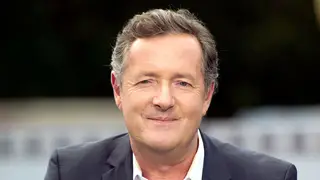 After sorority girls at University of New Hampshire were recorded saying "n****s" when rapping along to Kanye West's "Gold Digger," a national debate on the word ensued. However, no debate on race would be complete with Piers Morgan giving his unwanted two cents. 
In response to the viral video, Morgan penned an op-ed for the Daily Mail wherein he argued there is a difference between "n****r" and "n***a," and if anyone is to blame for white people saying the word, it's rappers like West who put it in their songs. 
Morgan teased his column with a tweet in which he used the word

The tweet alone was enough for people to cancel Morgan

Morgan's 'hot take' focused on blaming Black people for using the word and getting upset when others use it

"But if rappers like Kanye West insist on using it, and writing songs with the word in either form, then it is absolutely predictable and understandable that their fans will sing the songs just as they hear them – regardless of the colour of their skin.

"These Alpha Phi Sorority sisters did nothing wrong.

"If you want someone to blame, then blame Kanye West," Morgan wrote.

After the article was published, people had an even stronger reaction to the conclusions Morgan made in the piece

Eventually the suggestion to block Morgan was raised

And the perfect hashtag was born