Amen: University of Texas's Affirmative Action Program Upheld by Supreme Court
Now #BeckyWithTheBadGrades can officially take a seat.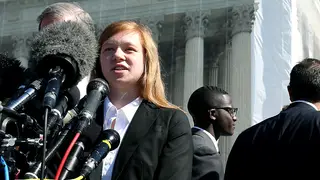 Back in 2008, a young woman by the name of Abigail Fisher filed a suit against the University of Texas (UT) for race discrimination. Fisher claimed that UT had unfairly rejected her from the school because of their affirmative action program.   
During that case, it could not be proven that was she was subjected to any discrimination. However, Fisher decided to take her case to higher powers and file an appeal with the 5th Circuit Court of Appeals. Once again, the court upheld the original ruling. This time, Fisher decided to go big or go home and appealed the case to the U.S. Supreme Court.
Now, here's the big issue with the case. UT accepts state students who finished in the top 10 percent of their class, which Fisher did not. It then uses a "Personal Achievement Index," which includes race, to fill other spots. Fisher and her representatives attempted to argue that the use of such an index puts white students at a disadvantage.
Now, the Supreme Court of the United States came back with a 4-3 ruling in favor of the lower courts' decisions and said that "race conscious admissions" does not violate any type of Equal Protection Clause.