Basketball Player Obliterated For Telling A Woman 'Eat A D**k' For Rejecting His 'Rich 6'9 A**'
"He got a six figure grill and a six grade vocabulary."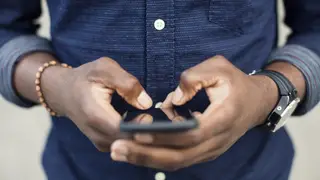 Although the celebration of International Women's Day just concluded, all it takes is a petty insult from a man after he gets curved to remind women that there is still much progress to be made.
Penn State student Taylor Tiara was reminded of this when she was subjected to a chain of angry text messages by a professional basketball player in the Euroleague.
Recently, Tiara met former Syracuse basketball player Rick Jackson at an event and gave him her number. Although she did willingly hand over her digits, she apparently had a change of heart and was no longer interested in Jackson.
When he attempted to strike up a conversation with the IG model, she did not respond. This did not go over well with Jackson, who then sent a scary amount of text messages that included a video where he called her a "stupid little b***h" and told her to "eat a d**k."
Tiara then put Jackson on blast by tweeting screenshots of his incessant messages

She also shared the horrific video Jackson sent

After people saw Jackson's repulsive behavior, they roasted him like grill masters at a barbecue

Jackson tried to come for Tiara's lack of money, but people called him out for his lack of NBA credentials

Although some people criticized Tiara for giving her number in the first place, they were quickly reminded that she was in no way required to respond to his abusive comments