See 'Black-ish' Actress Yara Shahidi 's Message Standing in Solidarity With Fellow Immigrants
"I am the result of love."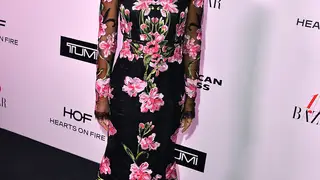 Actress Yara Shahidi, best known for playing the character Zoey on the sitcom Black-ish, is among many who have taken to social media to react to Trump's horrific executive order banning immigrants from seven Muslim-majority countries.
Taking to Instagram, the young actress and model penned a brave, honest message reminding her fans why this too-real news hits extremely close to home for her and millions of others in the United States.
"I am the result of love. More specifically, Black and Iranian love," the actress begins. "Of Shia love, of Christian love, of American love, of a love that highlights how interconnected we truly are."
She then goes on to say that if her own father was detained at an airport, a terrifying reality for at least 12 people today at JFK today alone, she wouldn't be here today.
"If my Baba was stuck in an airport because of a Muslim ban 39 years ago, he would have never fallen in love with my mama," Shahidi continues. "I would not exist and I wouldn't have two amazing brothers."
"Xenophobia destroys the power of love and the power of our collective potential," the actress states. "It creates a false sense of security for some and an environment of fear for others. Immigrants don't threaten safety - stereotypical narratives that promote hate do."
Ending her open letter, the 16-year-old concludes, "Sincerely, a proud Black Iranian."
As protests continue in New York City and across the country well into the evening, and more Americans find themselves personally affected by Trump's #MuslimBan, the actress is reminding us of the importance of taking a stand and acting as a united front moving forward.
Take a look at Yara Shahidi's powerful (and deeply personal) message in the post below.