BET Awards 2022: Who is Burna Boy? Get to Know the Star Shaking Up the Afrobeats Genre
The Nigerian singer-songwriter is a two-time Grammy Award winner.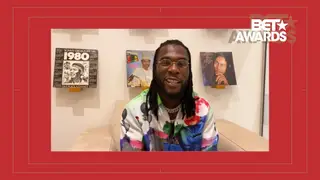 Born Damini Ebunoluwa Ogulu, Grammy Award-winning singer and songwriter Burna Boy has been blazing up the Afrobeats genre with his songs that highlight the crisis taking place in his country of Nigeria with racks like "20 10 20" brought awareness to the tragic killings of #EndSARS protesters on October 20, 2020. The 30-year-old also comes from a musical background; while both he and his sister Nissi are singers while his mother, Bose Ogulu, handles managing.
BET fans are familiar with Ogulu, who made an appearance at the BET Awards 2019 and accepted the award on behalf of her son. Her speech later became one of the most talked-about moments. With the 2022 ceremony just a few months away, we're looking back at some of the winners of past events, who will hopefully be at this year's ceremony. However, before then, get to know Burna Boy a little better with five facts about the Afrobeats star shaking up the genre.
Before he was Burna Boy, he was Shotgun

In his GQ Magazine cover story, the "Real Life" musician revealed that he started freestyling and producing beats under the pseudonym Shotgun when he was a teenager. He later chose Burna Boy because he wanted his artist name to sound like a superhero from comic books telling the outlet, "Spiderman, Superman, Burna Boy…."

Music runs in his family

Burna Boy isn't the only family member interested in the audio art form. The Afrobeats star's young sister Nissi is also a rising singer in Nigeria. Burna's maternal grandfather, Benson Idonije, is a writer, music critic, and former radio producer and presenter.

He's a Grammy Award winner

The "On the Low" musician made history at the 63rd annual Grammy Awards when he won his first career Grammy for Best Global Music Album for his fifth studio project, Twice As Tall.

His song made it to a political playlist

Burna Boy was one of several artists included in the eclectic Official [Presiden Joe] Biden [Kamala] Harris Inaugration  46-song playlist curated by Raedio. Entertainers included the likes of Kendrick Lamar, Tame Impala, Mary J Blige, and SZA.

His mom accepted a BET Award on his behalf

The Nigerian star attended the 2019 event with his mother, Bose Ogulu. However, after leaving his seat to grab a drink, Ogulu was left to accept the recognition on his behalf. During her speech, the momma bear thanked Africa "because that's the constituency for which we got noticed in the first place, and the message from Burna, I believe, would be that every Black person should please remember that you were Africans before you became anything else."

Tune into the BET Awards 2022 Sunday, June 26 at 8 p.m. ET/PT on BET.