Why Burna Boy's Afro Nation Performance Can't Be Missed
To witness the doyen of Afrobeats is an experience that cannot be replicated.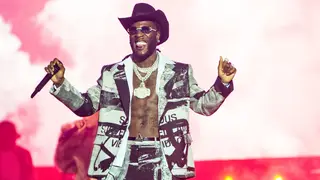 Born in a metropolitan area of Rivers State called Port Harcourt, Burna Boy (real name Damini Ebunoluwa Ogulu) has endeared himself to millions around the world for becoming the first Nigerian artist to accomplish several historical things. From the onset, the Afro-fusion musician has done what others have never could such as earn back-to-back GRAMMY nominations, winning a "Best World Music" golden gramophone at the 63rd Annual GRAMMY Awards. 
With his diverse sound, richly implementing various westernized genres like hip hop, pop, and R&B uniquely whisked with Nigerian pidgin, British slang, and Jamaican patois, Burna Boy has successfully connected with millions of music fans. His impressive means of bridging cultures through multilingual lyrics and strapping crossover execution has led to him becoming a significant influence on Africans, Black Americans, and the diasporic communities worldwide.
This year, Burna Boy is nominated for two categories, "Album of the Year" for his vocal contribution to "Loved By You" from Justin Bieber's sixth studio album "Justice (Triple Chucks Deluxe)" and "Best Global Music Performance" for his collaboration on "Do Yourself" with GRAMMY Award-winning Beninese singer-songwriter Angélique Kidjo, at the 64th Annual GRAMMY Awards. The latter is a newly added category "reserved for international performers exhibiting non-European, indigenous traditions." He competes against Chinese-American cellist Yo-Yo Ma, Femi Kuti (Fela Kuti's eldest son), and his fellow Naija boi, frequent collaborator and brother-in-music Wizkid in this category, from the globally-recognized album he also features on (see "Ginger").
Last year, the Nigerian powerhouse took home the golden trophy for "Best Global Music Album" (previously referred to as "Best World Music Album") for "Twice As Tall," his album executive produced "for free" by the music industry veteran Diddy. The album features guest appearances by Senegalese music legend Youssou N'Dour, Kenyan Afropop band Sauti Sol, fellow Grammy Award winners Chris Martin and Naughty By Nature, and award-winning British hip hop rapper Stormzy.
The career milestone marks Burna's first Grammy win. He closed out the premiere ceremony with performances of "Level Up," "Onyeka (Baby)," and "Ye."
Another remarkable feat from his lineage, Benson Idonije, revered Nigerian music critic and Burna Boy's grandfather, once managed Afrobeat pioneer and icon, Fela Kuti. He was the legendary band's first manager. Idonije's daughter, Bose Ogulu, manages her son, Burna Boy's musical career. As one of the pioneering artists of Afrobeats and other modern African music, Burna Boy has been an instrumental figure in making the music breakthrough in the United Kingdom and now, the United States. Like his electric musical peers, he toured America, but what makes his presence in Puerto Rico different is that he is on the bill with what has been referred to as the Mount Rushmore of Afrobeats (ask Nigerian Twitter).
On Oct. 8, Burna Boy played to a sold-out audience of 17,500 people at the Hollywood Bowl in Los Angeles. If you haven't had the chance to watch him in action yet, you are in for a treat. The high-energy artist allows himself to become one with the beat. As he freestyles and does dances popularised locally in Nigeria, the "Ye" singer smiles and periodically dodges undergarments from women seeking his attention.
His live performance style hasn't changed much from his 'Outside' era to 'Twice As Tall' days, but the venues and space he's been called to fill have improved. In 2018, Burna was underrated by his fellow Nigerians, probably because of its "road rap" implementation. Rappers aren't held in the same regard as singers in Nigeria. Regardless, the African legend is celebrated for his experimental music.
For die-hard African music fans, his upcoming performance at Afro Nation in Puerto Rico is seen as a massive moment with opportunities for Burna Boy to bring out his various collaborators across genres and races (like Diddy, Coldplay's Chris Martin, Sia, Sam Smith, or Headie One) make a statement, and headline the world's biggest Afrobeats festival for the spring/summertime. 
And because Davido and Wizkid are co-headlining the live experience, fans hope to have an instant-classic moment where all three legendary artists appear onstage together. Even if the trio stood together in silence for thirty seconds, it would be hallmarked as one of Africa's most incredible and historical moments — cementing Afrobeats into the lexicon of American pop culture and as a public symbol of their highly anticipated reunion.
This all sets the stage for another indelible moment for Afrobeats and the Motherland, as on Apr. 28, the architect behind "African Giant" will headline one of the world's most famous arenas: Madison Square Garden. The one-day concert is called Burna Boy: One Night In Space, in connection to his record label, Spaceship Collective, which signed BNXN (formerly known as Buju, the featured artist on Wizkid's "Mood" from his highly successful RIAA certified platinum long-charting album: Made In Lagos: Deluxe Edition). 
Burna has already emphasized how proud he has felt about the legacy he's creating for the Afrobeats, Afro-fusion genre — and how far he's taking it around the world. But as the first Nigerian act to ever headline the "World's Most Famous Arena," witnessing him demolishing the stage at Afro Nation is just the right precursor to learn how our favorite Naija boi plans on taking the art to another level. 
---
Richardine Juah Bartee is an award-winning advocate for her contribution to spotlighting modern African music and closing the gap between Africa and North America. She owns and runs the global music discovery platform — GRUNGECAKE — and is a member of the Recording Academy.