Hip Hop Awards 2023: Exploring DJ Clark Kent's Sonic Versatility: 5 Songs That Showcase His Range
From boom-bap to smooth grooves, take a trip through the veteran's musical spectrum.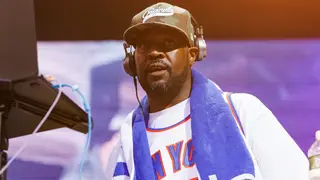 DJ Clark Kent is a legendary producer in the world of hip-hop, known for his unparalleled talent behind the boards. Over the years, he has crafted beats that have become timeless classics, contributing to the genre's evolution. His ability to craft diverse, memorable records has cemented his status as a true pioneer and legend in the production world. Check just some of the songs that continue to be celebrated by music enthusiasts worldwide, showcasing the enduring influence of DJ Clark Kent.
"Loverboy" - Mariah Carey

DJ Clark Kent's production on Mariah Carey's "Loverboy" added a dose of infectious, upbeat vibes to the track, making it an irresistible summer anthem.

"Player's Anthem" - The Notorious B.I.G., Lil Kim, Junior M.A.F.I.A.

"Player's Anthem" became an instant hip-hop classic following its release in 1995. Kent delivered a masterclass in crafting a timeless hip-hop beat that still bumps decades later.

"Sky's the Limit" feat. 112 — The Notorious B.I.G.

DJ Clark Kent's production on this classic provided the track with a soulful and uplifting backdrop.

"Super High" feat. Ne-Yo — Rick Ross

Kent created a luxurious and smooth sonic landscape to Rick Ross's  smash single "Super High" featuring Ne-Yo.

"I Love It" — Lil Pump & Kanye West

Kent delivered on this unlikely project from Kanye West and Lil Pump.

Watch the Hip Hop Awards 2023 on Tuesday, October 10, 2023, at 9 PM ET/PT on BET.