Carter, Dole Wives Aid First Lady's White House Troop Effort
First Lady Michelle Obama hosts event for caregivers of wounded troops and veterans.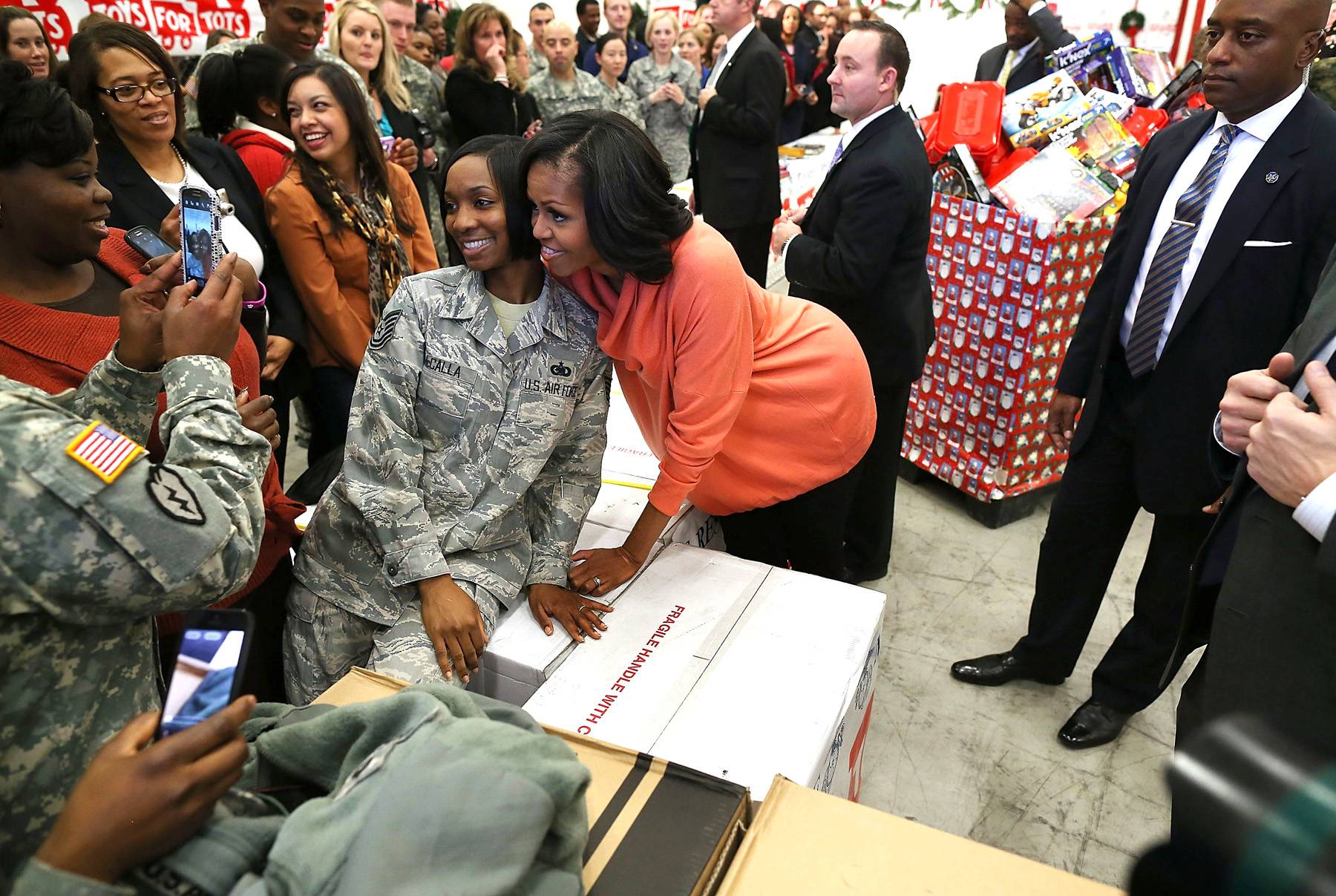 WASHINGTON (AP) — Showing that some issues can bridge the political divide, Michelle Obama and Jill Biden, joined by former first lady Rosalynn Carter and former Sen. Elizabeth Dole, offered new sources of much-needed support Friday for millions of people who care for wounded service members and veterans, oftentimes at great emotional, physical and financial cost.
There are more than 5.5 million military caregivers in the U.S., including 1.1 million caring for the newest generation of veterans, those who served after 9/11, according to a RAND Corp. study released last week and commissioned by Dole's foundation.
Many of these caregivers suffer health problems of their own because they put so much time and attention into caring for others. Income often is lost as a result, financial problems arise and relationships at work and at home become strained.
Mrs. Obama said military caregivers show what bravery, courage and sacrifice really mean.
"The burden that these men and women bear for our country is real and they shouldn't have to bear that alone," she said at an event in the White House East Room in honor of caregivers. She noted that Republicans and Democrats, business and labor leaders, two groups that often do not see eye to eye — were in the audience to show their support.
To that end, three groups — the Military Officers Association of America, USAA Bank and the American Bar Association — are working on creating a website to provide caregivers with legal and financial assistance. Easter Seals is expanding its caregiver training. The U.S. Chamber of Commerce will help caregivers get more flexibility in the workplace so they can better balance the demands of work and home.
"Today we say you are not alone," added Dole, whose husband, former Sen. Bob Dole, lives with lasting wounds from World War II. She said hours she spent in the company of caregivers at Walter Reed military hospital when her husband was a patient there for nearly 11 months several years ago inspired her to create a foundation to support them.
Dole's foundation, the Tragedy Assistance Program for Survivors and other organizations are promising to train 10,000 caregivers to work with their peers. And the Defense Department is creating in-person caregiver forums at every U.S. military installation around the world that serves wounded service members and their caregivers, along with online tools for those who cannot attend the sessions. Mrs. Obama said the round tables are a byproduct of a similar forum she attended at Fort Belvoir in Virginia on last year's 9/11 anniversary.
"All of these new commitments are a big deal, but they're really just the tip of the iceberg," Mrs. Obama said.
Friday's announcement kicked off a month of events to mark the third anniversary of Joining Forces, the nationwide initiative that Mrs. Obama and Vice President Joe Biden's wife, Jill, created in 2011 to boost public support for active-duty service members, military families and veterans in the areas of employment, education and wellness.
Mrs. Obama encouraged caregivers to take advantage of available benefits and search for other resources and support online.
BET Politics - Your source for the latest news, photos and videos illuminating key issues and personalities in African-American political life, plus commentary from some of our liveliest voices. Click here to subscribe to our newsletter.  
(Photo: Mark Wilson/Getty Images)