Pardison Fontaine, Megan Thee Stallion's Boyfriend, Addresses Tory Lanez Trial
"To any woman, especially ones of color, that has suffered an injustice, I feel for you …" he wrote on Instagram. "I wouldn't wish this on anyone."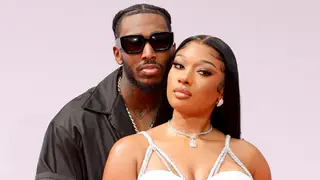 Megan Thee Stallion's boyfriend, rapper Pardison Fontaine has spoken about her assault trial against Tory Lanez, which is currently awaiting a verdict.
On Thursday  (Dec. 22), Fontaine headed to his Instagram story to address the situation.
"To any woman, especially ones of color, that has suffered an injustice, I feel for you …" he wrote on Instagram. "When you do find the courage to speak up it seems you will be ridiculed. Your credibility will be questioned, your entire past will be held under a magnifying glass. In an instant you can go from victim to defendant in the eyes of the public. To anyone with a sister, mother, niece or aunt, I pray for their protection. I pray for their covering. I wouldn't wish this on anyone."
According to Complex, the artist started dating Megan in Oct. 2020, just three months after Lanez allegedly shot her in her feet in the Hollywood Hills.
Lanez is charged with three felony counts, including assault with a firearm causing great bodily injury, concealing a loaded, unregistered firearm in a vehicle, and discharging a firearm with gross negligence. If convicted, he faces a maximum of 22 years and eight months in prison and possible deportation.