P-Valley Season 2: Shannon Thornton Says Audiences Will Witness Her Character's "Very Interesting" Journey
In this BET.com exclusive, J. Alphonse also chimes in about Uncle Clifford and Lil' Murda's on-again, off-again situationship.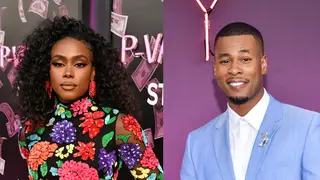 Bring out the strippers and the dollar bills as Lil' Murda and Keyshawn are coming back to your screens as P-Valley returns to Starz on June 3rd.
Fans have been waiting to see what our favorite musician and dancer duo has been up to and the wait is finally over.
In an exclusive chat with BET.com, Shannon Thornton and J. Alphonse Nicholson chat about the new series, how their characters will lean on each other this season and their favorite traits about their characters.
BET.com: The beauty about both of these characters is they are very similar in different ways and are going through tough situations while trying to maintain their peace….how will your characters lean on each other this season especially since they will be working more closely together?
Shannon Thornton: We are each other's support system this season for sure. What's been constant from season one to this season is we become each other's confidence — in one of the episodes, fans will see Keyshawn giving advice to Lil' Murda about love. It's really cool this season
J. Alphonse Nicholson: We love our people at BET so thanks for having us. This season, you'll see Lil' Murda and Keyshawn on this incredible journey with their sibling-like relationship they have but also continue to do successful business with eachother as they go on this amazing tour. These two are very similar yet have different things going on so you'll see how they support each other.
BET.com: Things are a little rocky between Murda and Uncle Clifford this season, especially as Murda's popularity rises and more attention on him. As the fans watch this storyline unfold, what can we expect from Murda and Clifford this season?
J. Alphonse Nicholson: Without giving too much away, you can expect all the highs and lows that come in any relationship and the complex situations that may occur. With Lil' Murda and Uncle Clifford specifically — it's one of those relationships we haven't seen unfold on television. We'll see Lil' Murda struggle with his identity as he continues to find himself and see if he and Clifford can reignite the flame or if they go their separate ways.
BET.com: These two seem like they bring out the best in each other. What do you think Clifford brings out in Murda and vice versa?
J. Alphonse: There's so many things she is able to bring out of Lil' Murda — an extreme amount of competence. She obviously inspires Lil' Murda to be as free and open as she is. When it comes to not stopping and pushing forward to find your purpose, all those things are very prevalent to Uncle Clifford — you'll see Lil' Murda pull from that and be a sponge.
BET.com: Keyshawn and Diamond's relationship is at a standstill after she pointed the gun at him to protect her boyfriend…how will we see this triangle unfold in season two?
Shannon Thornton: I think the audience may have been confused as bit as Keyshawn and Diamond have so much chemistry, they do like each other, and if you look closely — without saying so many words, they say a lot in their silence. There's a beautiful moment where Diamond offers to watch Keyshawn's daughter while she dances and there's a small moment where they say nothing. Keyshawn is now dealing with the consequences of pulling a gun on Diamond from last season to protect her abusive boyfriend. You'll see that unravel and if they reconnect or not. You'll also see Keyshawn go on a very interesting journey with her boyfriend Derek.
BET.com: For the both of you, what do you love most about your character?
J. Alphonse: I think what I love most about Lil' Murda is his ability to bounce back from devastating falls and the dark moments in his life. He's been able to bounce back and still see the light.
Shannon Thornton: There's so much I love about Keyshawn. I love her ability to use her vulnerability as a tool to get what she wants. She knows she's very dewy-eyed and can ask for anything. She plays dumb to get what she wants and uses her childlike qualities — she really plays into that. In season two, you'll see how calculated along with how smart and business savvy she is as well. She's a very fun girl.
Ty Cole is a New York-based entertainment reporter and writer for BET.com who covers pop culture, music, and lifestyle. Follow his latest musings on Twitter @IamTyCole.