Tekashi 6ix9ine's Baby's Mother Has A Message For Fans After The Rapper's Hospitalization
He was reportedly pistol whipped, beaten and kidnapped.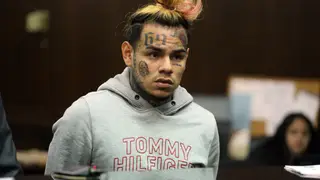 The rapper's baby's mother is now speaking out about the unfortunate incident and is asking people to give her and Tekashi some privacy for the time being.

"I ask that everyone respect my privacy and give me and my family some time and not bombard me with questions," she wrote in her Instagram Story. "I do appreciate the prayers and concerns."

TMZ initially reported that Tekashi was working on a music video in Brooklyn early Sunday (July 22), and during his drive home, another car pulled up and blocked his driveway. That's when three hooded gunmen hopped out of their vehicle, grabbed the rapper and pistol whipped him, which knocked him unconscious.

They gunman subsequently stole around $750,000 in jewelry and between $15,000 and $20,000 in cash. His daughter and her mother were reportedly inside the home but weren't hurt.

Tekashi 6ix9ine is still at the hospital being treated for his wounds.