Ex-NFL Superstar Terrell Owens Struck By Car During Pickup Basketball Game
The authorities are investigating the incident as a 'deliberate act.'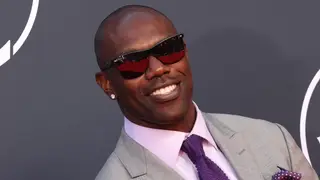 Former NFL star Terrell Owens was struck by a vehicle following an argument with a man during a pickup basketball game, USA Today
The Hall of Famer got into an argument with the unidentified man in Calabasas, Calif.,  and when the game was over, the man drove his vehicle into Owens. The authorities stated that Owens did not require medical assistance.
According to authorities, the incident is currently being investigated as a  "deliberate act."
The incidentis the latest altercation that Owens has been involved in. In November 2022, Owens was seen punching a man in a CVS parking lot claiming he acted in self-defense after the man "made offensive gestures and threatening statements" to him and a fan. When he attempted to  de-escalate the situation by exiting the store, Owens said the man followed him and  "swung at me first" before he "felt obligated to prevent the aggressor from becoming more violent."
"The aggressor continued threatening the fan just as he did in the store," Owens said in a statement at time. "Once again, attempting to defuse the ongoing situation, I placed myself between the fan and the aggressor. I made verbal demands asking the aggressor to stop his threatening behavior."
In August 2022, Owens was caught in a "Karen" situation with an unidentified white woman on a bike who disliked his driving skills near his home in Broward County, Florida.
The woman accused him of nearly hitting her with his car, which he vehemently denied. She also claimed to an officer on the scene that Owens "aggressively got out of his vehicle and approached her."
You don't yell at me and tell me I almost hit you and I didn't," Owens is heard saying to the police officer.
The frantic woman replies "But, you didn't have to get out of your f***ing car!"
Owens continues, "You didn't have to talk to me that way, either! Karen!"
The woman responded, "You're a Black man approaching a white woman!"
During his 15-year career, Owens gained 1 5,934 yards receiving and caught 153 touchdowns while playing for the e San Francisco 49ers, Philadelphia Eagles, Dallas Cowboys, Buffalo Bills, and Cincinnati Bengals.