Michael Ellison And Ron Griswell Are Industry Changemakers Redefining Black History
The two are honored as part of Walmart's Black & Unlimited Initiative.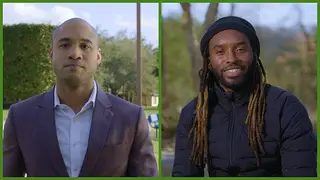 The Black diaspora has long been plagued by rigid definitions of traditional "Blackness" encompassing what "we" do and don't do. The beauty of our community, however, rests in the fact that we're not the monolith that much of the world assumes us to be.
A signature part of Walmart's Black & Unlimited Initiative is to demonstrate that the depths of Black culture cannot be contained and that there are multitudes of changemakers who have created spaces in places that we don't traditionally occupy. Enter Michael Ellison and Ron Griswell.
Ellison is founder and CEO of CodePath.org, a nonprofit designed to increase the number of ethnically underrepresented workers in the engineering and computer science industries, both of which remain woefully non-diverse.
CodePath aims to level that playing field by providing students the opportunity to develop real-world projects with the help of industry-leader mentorship. They have access to robust networking opportunities, mock interviews, and coaching programs. With a 1.6 million donation through the Walmart.org Center for Racial Equity, CodePath.org has been able to expand its curriculum into even more HBCUs opening the doors for Black students to spark successful careers in technology.
Ellison has spent his career paying it forward: Having endured childhood poverty, he got into the tech startup game as a teenager, eventually becoming a founding board member of Women Who Code and co-founder of customer data hub Segment, which landed a $1.5 billion valuation.
"Our education system fails low-income and underrepresented populations," Ellison told New Profit. "CodePath is tackling the root causes of the lack of diverse representation in tech by improving curriculum and support structures for diverse and low-income populations at scale."
Since its inception in 2017, CodePath has taught at 70-plus colleges and impacted more than 10,000 students, 61 percent of whom are low-income or underrepresented minorities. About 85 percent of the program's Black and Latino alumni work as software engineers.
"Not everyone needs or should be a programmer, but everyone needs to become comfortable with technology," Ellison said. "Digital literacy and data literacy are not optional skills. Technology is transforming every industry and job."
With every year that CodePath.org helps to create a progressively more diverse tech industry, Ellison will cement his legacy as a Black & Unlimited honoree. "We need to make sure that everyone in our communities has the skills needed for the future of work," he said. "A deeper understanding of technology will also allow people to create new and better solutions to drive positive change in their communities."
Ron Griswell is tackling a space that is arguably less "Black" than tech: the great outdoors. As a high-school student, Griswell was reminded by his classmates, unkindly, that Black Americans aren't known for their connection to Mother Nature.
"When I talked about the outdoors, the Oreo joke came up—black on the outside, white on the inside," he told Children and Nature Network.
Growing up in North Carolina, the outdoors has always been a part of Griswell's world. But a service-learning experience in Belize while enrolled at North Carolina A&T State University led him to create HBCUs Outside in 2020. He did so with a simple goal ­­– get students of historically Black colleges and universities more acclimated to the outdoors.
"We want to see more Black faces running trails, climbing mountains, and sitting at outdoor industry boardroom tables," said Griswell. "We help HBCU students and alumni enjoy the natural world and become the leaders we need for a healthy planet and a more diverse, equitable, and inclusive outdoor industry."
Griswell has dedicated his career to various outdoor and environmental pursuits, including writing and reporting and working as an environmental traveling companion. Much of his time these days is spent expanding HBCUs Outside, whose experiential programming ranges from mountain climbing to backpacking to skill-building.
"These are America's next Black leaders and the time for them to start caring about the outdoors is in college. That's when people are experiencing new things, getting curious, and exploring themselves and their passions," Griswell told Outside Business Journal. "Black students should have the same opportunities and resources to get outdoors—and they should have had them yesterday."
As Walmart and other brand partners offer financial support to HBCUs Outside, they are, in turn, exposed to a potentially more diverse workforce.
"It's important for companies to know they're being invited to these campuses," Griswell said. "They in turn need to show up and say, 'We value you and think that you'll be an important asset to our organization.' Once you start changing the physical makeup of these companies, that's where real diversity and inclusion starts to take place."
As HBCUs Outside grows, Griswell will remain his authentic self as the face of the company.
"I feel as though when people see themselves reflected in me that they're going to feel more welcome to come into these spaces," he said. "I know that's a feeling that can not only change their lives but change the world as well."
---
Walmart will celebrate and highlight the breadth of Black interests and identities; inspiring discovery of the things people need to express their identities loud and proud – at the value and accessibility Walmart is known for. Visit here to apply for CodePath's program; visit here to join HBCUs Outside's community.