Look: Angela Simmons Shares First Photos Of Her Son — And His Name!
The new mom also makes a statement about her fiancé.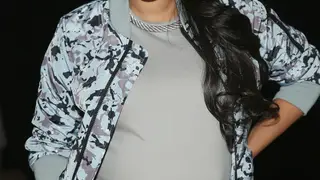 The reality star shared the snaps with People magazine, also opening up about her fiancé and baby's father Sutton Tennyson, who stayed out of the spotlight throughout her pregnancy — prompting some to wonder if they had split.
Turns out, there was no fire underneath the smoke. Angela and her man are doing just fine, and their little boy is even carrying on his name!
On that note, without any further ado, here's a close look at their son Sutton Joseph Tennyson:
In the interview, Simmons says Sutton Jr. came nearly a month early — at 36 weeks — so she had less time than expected to prepare. But, she has a strong partner at her side. "He's been so helpful, doing middle-of-the-night diaper changes and everything," she says of her fiancé, adding that the couple are indeed planning their wedding but trying to live in the moment as well.
"I've always wanted to be a mom," she says. "So I'm loving every minute of it."
Congratulations to the happy family!
Get the backstory on Angela's husband-to-be with BET Breaks, above.