Boosie BadAzz Has A Theory About Meek Mill's Prison Sentence That Will Blow Your Mind
"He can handle that s**t."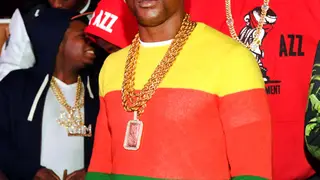 Boosie BadAzz thinks everyone is making a big fuss out of Meek Mill's recent prison sentence. While a federal judge mandated Meek do two to four years behind bars, Boosie suggests the Philly rapper won't actually have to complete the entire sentence.
TMZ caught up with the rapper in an airport, where Boosie presented his theory about what will really happen when Meek goes into lock up. "He ain't got nothing but two years. Ya'll making a big deal over this s**t. He'll probably do like 10 months over that," Boosie declared. "N***a that ain't s**t. Lay back on that, get fat. Then come back and be richer than he was." He also noted that Meek should just do the time and focus on "his craft." 
And when the Dreamchasers artist returns, Boosie said he will be better off than when he left. "Once you a street n***a, you can handle that. He can handle that sh*t. It ain't no mother**king dime," he added. "He not going to do 10 years, even though it was some bulls**t they got him on. He gone be back even stronger… He'll be richer in two months than he was his whole career."
Although Boosie has his bets on a shorter sentence, many other fans and celebrities are urging people to sign a petition to reverse the judge's ruling altogether. The petition has already garnered more than 200,000 signatures since it was formed on Nov. 7.