Louisiana Becomes Latest State To Make Juneteenth A Holiday
Governor John Bel Edwards just signed a bill making it official.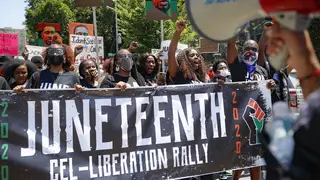 Juneteenth is officially a state holiday in Louisiana.
On Thursday (June 10), Gov. John Bel Edwards signed House Bill 554 into law, making June 19th a holiday.
On June 19, 1865, enslaved people in Galveston, Texas learned the Civil War had ended, and that the Emancipation Proclamation had freed them almost two year prior.
Juneteenth is the oldest nationally celebrated memorialization of slavery ending in the United States.
According to US News & World Report, the Louisiana House voted for the measure 87-0, which was introduced by Baton Rouge Democratic Rep. Larry Selders. The state's senate also unanimously voted for the bill 37-0.